A new year means new wedding trends, and we rounded up industry veterans for a little 2020 forecasting to see what's in store for nuptials in the coming months. From trends that reflect larger-scale cultural movements—such as eco-conscious purchases—to finer details related to food, florals and beyond, you're bound to see (and incorporate) the following.
Reducing the Wedding Carbon Footprint
"Sustainability isn't just a trend, it's the new norm," says Slomique Hawrylo, SIGNATURE BRIDE's celebrity wedding and event planner, and founder of Carpe Diem Events. "Couples getting married today are from the generation that understands the impact we have on the environment. With that, their passion goes beyond recycled bags and water bottles and extends to every portion of their lives, including their wedding." 
Hawrylo says that every year moving forward will have a sharper focus on sustainability, and as time goes by, we'll collectively get better at finding new and improved ways to decrease waste on the environment while still planning an epic wedding. 
Kylie Carlson of The Wedding Academy, agrees. In her 2020 International Wedding Trend Report she says, "[Even now], there are so many ways to plan a sustainable wedding. Some of those include using recycled paper for the wedding invites, opting for foam-free florals (also known as 'oasis'), working with caterers to ensure food is sourced locally and even choosing a venue that limits the amount of travel made by your guests." 

Keeping it Casual and Intimate
Coattails and top hats can have their place, but our pros say 2020 is all about embracing a more casual approach to nuptials. This is partly to help reduce overall expenses, and partly because casual can translate to more relaxed planning and a really fun celebration. 
"Weddings are becoming increasingly expensive and the expectations are becoming higher and higher. I believe more and more couples will opt for a small homespun wedding with meaningful touches in 2020 compared to previous years," says Jessica Goldklang, founder of Party Crush Events in Los Angeles. 
If you're toying with the idea, she says to think about having your wedding at a non-traditional, well-appointed space—or even at home—versus a large church or fancy hotel. Not only will you have control over the food and alcohol costs, which will save a good amount of money, but it will be an intimate and truly special celebration. 
Another way to make your wedding more intimate is to reduce the guest count, which is something Joanna Sheppard, founder of Valia Rose Events in Alabama, is seeing more frequently.
"With the cost per person at a rise, couples are minimizing their guest lists to still achieve the wedding of their dreams," says Sheppard. "To do this, create an A-list of immediate family and prioritize the remaining guests, potentially creating a B-list. Also, limit your guests to adult-only, and if kids are a must, then hire an event childcare service and create a kid zone."
Incorporating Experiential Factors
In 2020, couples are making an effort to incorporate immersive experiences for their guests, and they're not holding back. 
An option that feels very futuristic is a 360-degree photobooth in lieu of the traditional version, says Jamésa Adams, founder Jayne Heir Weddings and Events, based in Washington, D.C. Instead of a flat photo, it produces a short video clip that your guests can post that is branded with the couples' names or wedding date. 
 "Incorporating costumed dancers, a confetti canon, a live band, eclectic musicians or a live painter are just a few more ideas that can create a huge impact in the overall atmosphere of the wedding," Adams adds. She says to work closely with your wedding planner to select the right entertainment company that can provide these services.
Detailed, Modest-Leaning Wedding Gowns
"Wedding dress coverage and sleeves are coming back and in a big way. Examples of this include a jewel neckline, cap sleeves, straps added to the dress and elbow-length sleeves," says Monte Durham of Say Yes to the Dress: Atlanta, in The International Wedding Trend Report. "We're also seeing fuller, softer skirts that can be made even more voluminous if the bride wants." 
Hawrylo agrees, adding that she's seeing tasteful embellishments being incorporated into the mix, as well. "Brides are opting for a little more fluff, a little more beading, embroidery and a whole lot of veil," she says. "Regardless of budget, there are successful ways to incorporate a lavish, unique look. It's all about finding the perfect wedding boutique and sharing your wedding dress desires with the sales rep. Bridal boutiques are quite familiar with every designer and, with your description of your dream wedding dress, they will know the perfect designer to introduce you to." 
Hawrylo adds that if you want to stick to a budget then resale websites are your best friend. Some of her preferred options are Still White, Tradesy and Poshmark, where you can find incredible designer gowns for half the cost. Pro-tip: have the gown tailored and customized by a local seamstress for extra wow.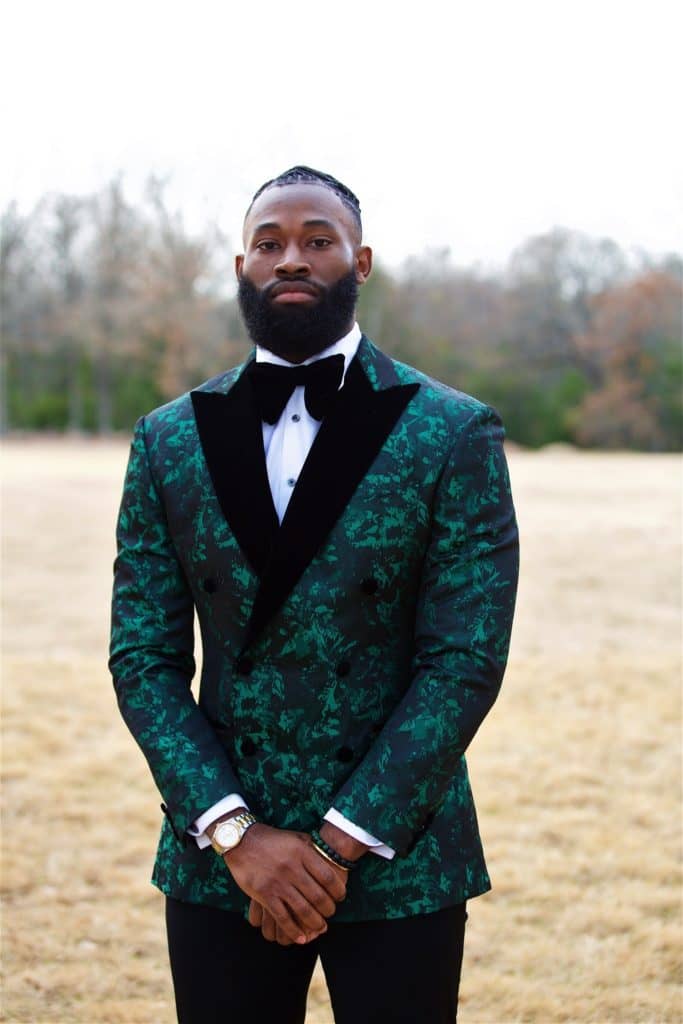 A More Bespoke Groom
In 2020 and moving forward, you can expect to see more grooms looking to make their own mark when it comes their attire. It's no longer just about the bride. 
"Grooms want to stand out from their groomsmen and exhibit who they are and their personality in their attire," says Hawrylo. "Tux warehouses are no longer desirable for the stylish groom. Instead, they're opting to have custom tuxes made for them, especially if they know they will use it in the future." 
If budget is an issue, she says to consider getting a custom jacket designed and tailored to you, while opting to purchase your pants and shirt. Ask the tailor who designed your jacket to tailor your shirt and pants to fit you perfectly.  
Embracing the Untraditional
"Our culture has expanded to embrace all sorts of ideas in recent years. Creating new traditions and eschewing our grandmothers traditional wedding ideas is a liberation of sorts," says Goldklang. "It's important to maintain wedding ideas that feel right, but why not contrast them with fresh concepts that feel more 2020 than 1950? Perhaps that means you have a best man as a bridesmaid or a best girl as a groomsman, or maybe you decide to walk down the aisle with your partner-to-be instead of your parents. Or you could even create a more casual and conversational wedding ceremony that is tailored to you both. The options are endless."