A wedding is a

perfect opportunity to celebrate with good times, great people, and great food, right? But we all know that nuptial noshing sometimes gets a bad rap—bland, predictable fare that is best forgotten. However, that stigma doesn't have to be the signature taste at your reception.
The traditional meal is often overpriced and overdone—and much of it goes uneaten.  In fact, more couples are considering options that are anything but traditional. The popular food vibe now is centered on what's fun, personal to the couple, and earth-friendly.
No stuffed shirt here. The traditional sit-down plated meal is getting a rehab as guests move to the bars—the food bars, that is. Food bars continue to be a popular choice for feeding guests, with innovative approaches that are filling as well as creative.
Breakfast foods, such as waffles, biscuits and honey, and omelets are very much in style as a brunch or afternoon reception choice. Going back to childhood delights with themes like cookies and milk, ice cream sundaes, or outdoor slushies sets a whimsical, lively tone.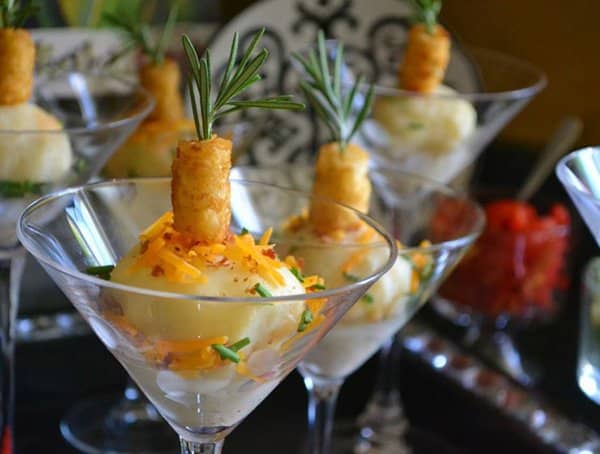 Let guests unleash their creativity at a build-your-own bar. It's interactive, fun, and festive. At a BBQ bar done by Relysh Catering of Annapolis, Maryland, a well-received feature was the sauce and seasoning bar. There were various sauces, cilantro, onion, and a few hot sauces, too. That would be a menu to remember.   
Comfort foods aren't short stopped either. Items like mashed potatoes and mac and cheese are big hits for many Big Days. An interesting twist seen at an Arkansas reception was martini glasses waiting to be filled with mashed potatoes or mashed sweet potatoes with a variety of toppings.
The name for this bar? Mashtini's—quite the play on words! Using that same idea of a cocktail glass, why not serve French fries with dipping sauce at the bottom? On another note, guests won't stop talking about those little burgers and/or veggie slider sandwiches, either. These are just a few fun ways to present foods that reflect your celebration mode.
Keeping it in the family. Even the dining style at receptions isn't just one way. "Family style" is becoming more accepted. Served on large platters passed around the table, family-style food encourages conversation, interactions, and a genuine homey feel. It can also be a more economical choice, as fewer servers are needed and there is less waste. This type of service lends itself well to afternoon or evening events.
The personal touch. Showcasing dual cultures or favorite dishes of the couple are some of the innovations in reception menus. The fusion of two backgrounds is a wonderful way for guests to feel familiar with dishes they know, as well as explore some new tastes. This approach gives couples the opportunity to honor their backgrounds. Continuing along the same line is serving fare from the couple's love story.
The Manor, a restaurant in West Orange, New Jersey, notes several couples incorporating this element in their menus. It could be a dish they shared on their first date or something from a meal prepared by the bride for her fiancé. Whatever you choose, it's another fun way to infuse your personalities into the wedding celebration.
Keep on truckin'. Food trucks continue to be real crowd-pleasers at wedding receptions, and they lend a more casual mood to the festivities. They are perfect for cocktail hour and late-night snack times—some couples are even catering dinner or lunch with food trucks. Popular truck ideas include tacos, donuts, pizza—even coffee. There are lots of sources online on how to stage a winning truck reception. It's unconventional and quirky, but for many couples, it's a winner. 
Fresher fare. As people continue to move toward healthier fare, there's no reason your wedding reception can't reflect the same. Think more produce and lighter bites during the cocktail hour. Consider going green at dinner by offering organic greens and meats.
Breakfast all day. Another retro idea for wedding reception menus is serving time-honored breakfast foods for a brunch reception. Brunch usually takes place between 11 am and 2 pm. The reception could be formal or casual. For the menu: juices, coffee, mimosa, lox and bagels, pancakes, waffles, omelets, biscuits, chicken and tuna salads, fruit salads. The ideas are endless.
From farm to table. With the rise of the foodie culture, the farm-to-table wedding menu is getting attention. This type of menu can offer a vast selection, depending on where you live and the season. Here, event managers and chefs work with clients and local farmers to produce a customized menu based on the season and preferences. This is truly a "grown-to-order" menu, and like any other planning aspect, you need to allow plenty of time.
One couple began planning their menu in February, though their wedding was in September. They met with the chef and local farmers to customize the menu. From May to September, fresh produce was seeded and harvested in time for the Big Day. The challenge in this type of reception is finding a venue that offers a farm-to-table option. Also, consider event companies and catering companies specializing in this type of catering.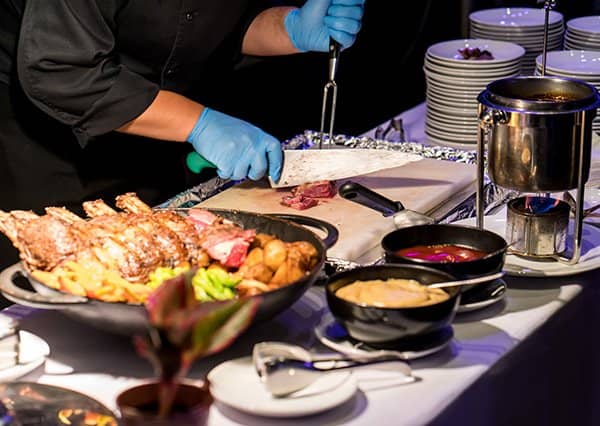 Take a station and [bar] break. Food stations and bars continue to be popular choices for wedding receptions. While food stations are typically manned by professionals, you can get creative setting up food bars that offer an array of foods that reflect you as a couple. Stations are somewhat more expensive, as aside from the staff, there are setup costs. What to offer is limited only by your imagination and budget. Think French fries and sliders, shrimp and grits, wine and cheese, pasta and sushi bars, even drink and dessert bars. Creating one's own plate is an increasing preference among forward-minded guests.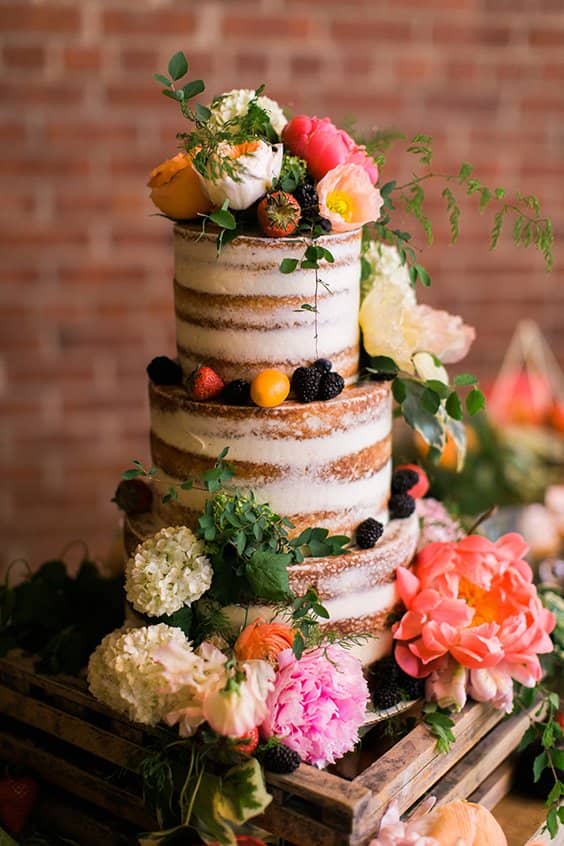 Let 'em eat cake. Trends for wedding cakes are anything but one style fits all. This is another area where you can put in a healthy dose of personality. An interesting touch is the "storybook" cake, which incorporates the couple's own story and interests. Also trending are cakes reflecting cultural backgrounds.
Designs can be inspired by symbols, traditions, and even special colors. Bold and striking, cakes with black frosting or lace-like black-and-white cake, as well as painted cakes and naked cakes are trending. It's a departure from the usual white and pastels. Textures, such as ruffles and rosettes, are visually stunning, along with lots of buttercream designs.  
Other trends move beyond the usual and make a huge impact. Instead of a separate cake for the groom, some bakers are blending the two with a multitiered cake that has the groom's embellishments on one side and the bride's elements on the other. 

Unique sweets. Think beyond your wedding cake. The call for variety is often found in staging a dessert bar. Your bar could feature an array of cupcakes, candy, an ice cream or gelato station, cookies/milk, cake pops, fruit and yogurt parfaits, miniature dessert foods, etc. You're not limited to just one or two items if that's your fancy. This is also a perfect way to incorporate your personal faves, like donuts, dessert shooters, and brownies.
Current wedding food trends are anything but boring. We hope we've given you something to think about when planning your BIG DAY. At SIGNATURE BRIDE we believe your day is your style, your way. These ideas clearly demonstrate "off-the-plate" thinking.