Lighting is often overlooked by couples when planning their wedding. This has always baffled me as an event planner because I believe that lighting design is essential in order to create the best "look." It doesn't matter if we keep to the basics or if we go all out with custom gobos. 
Without the right lighting, a wedding design will always look flat. How do I know I'm right? Well, besides the stacks of photos from real weddings I have as evidence, just look at any advertisement for a venue. Quite often, a venue will showcase their space with a full room shot as part of their marketing strategy. The pictures chosen all have one thing in common: the lighting is a core design element.
Lighting elevates the overall look of the entire wedding design. Yet, many couples ignore this fact completely and either leave lighting as an after-thought that gets cut from the budget, or they just pass on it altogether.
The reason for this is simply that couples don't necessarily realize what they are looking at or why they like what they see. They know they like it, but, if you ask them for specifics, you'll hear about the décor or the flowers, or anything that isn't the lighting. Lighting isn't just part of the package; it completes the package. In fact, by investing in your lighting budget, you are also investing in everything that the light touches, without using actual dollars.
There are the lighting basics and then there are the countless ways you can incorporate lighting into your wedding day design. Working with a planner and an experienced lighting designer, you can put together what options would be best for the space you are working with. No matter what you end up with, it's important to start creating this look early in the planning process.
Starting with the basic lighting enhancements that I consider the bare-minimum "must-haves" — wall washing, uplights and pinspots — are easy ways to create an elevated look. Wall washes and uplighting can work together or separately within the same space. These are affordable options that will create the look of a room being enveloped in the color of your choice. Often used for the main reception area, whether you incorporate both or just one over the other, will depend on the structure of the room and other logistical details.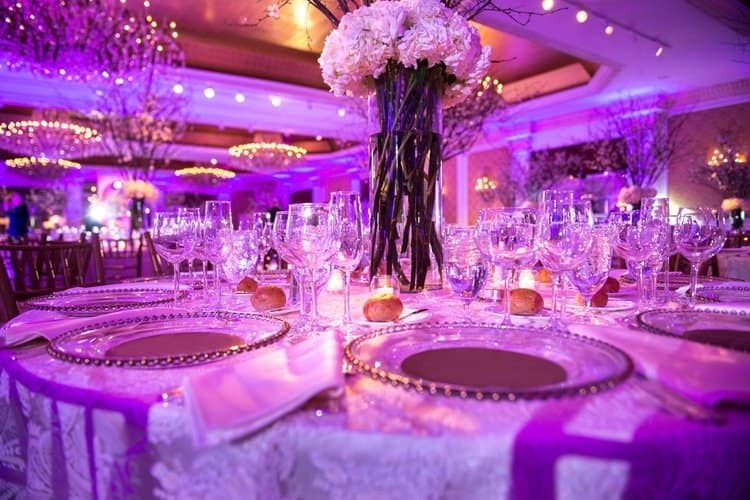 While brides and grooms will never be limited as far as color choices go, you can't go wrong with a soft amber glow. Filling your reception space with the look of candle light will enhance every other design detail. That said, a couple can achieve a whimsical look with a softer blue or purple, or create an edgy design using different shades of green. If you're like everyone else and can't make up your mind, a professional lighting company will keep technicians on site to change the colors as you wish at any point during the wedding.
Inside the reception space, the third type of lighting that is essential is pin spotting. Most of the couples I work with think they don't know what that is, but the truth is, they've seen it without realizing it in plenty of wedding venue advertisements. Pinspots are small light installments that are focused on specific design elements.
If you only use pinspots in one area of your wedding, it should be within the reception space and onto your centerpieces. Pinspots offer a soft glow to each centerpiece, allowing them to be seen by all your guests. More importantly, the light placed onto the centerpiece makes it easier to photograph so that you can see them in those wedding photos you invested in.
When working with a darker room or darker flowers, the centerpieces will often disappear into the background. Using hanging candles within the centerpiece or even around the base will not provide enough light. Candles are just for "show" and you would need hundreds before you could use them as an actual light source.
I have worked with couples who opted to not use pinspots and it was heartbreaking to see their stunning centerpieces disappear under darkness. Even worse was reviewing the photos after the wedding and not being able to see the design we had worked on for so long. There are no do-overs for your wedding day, so make sure to get the lighting right.
With the foundation of the lighting design in place, you can then begin to transform the space. Regardless if any of your guests have been to your wedding venue before or not, creating a design that is uniquely you and your fiancé should always be the priority.
Jim Bonkosky of JB Lighting Production in Hawthorne, NJ, offers this suggestion on how to get creative with your wedding lighting: "One of the most unique ways to incorporate lighting into your wedding day design is to put several different types of lighting into use at the same time. Uplighting is an amazing room transformation but imagine pairing it up with some patterns projected around your venue. If you like the ocean, project some waves. If you like the forest, project branches and trees. Now you are immersed in ambiance and you may feel like you are there."
Wall washes, uplights and pinspots can be used outside the reception space as well. In fact, pulling your lighting design throughout each space of the wedding location creates a more cohesive look.
As a designer, I make sure my couples understand just how important it is to immerse their guests in the wedding from the moment they arrive. There's no easier way to create a disjointed look than to ignore rooms or spaces that aren't the main focal point. Just because the bulk of your wedding day will be spent inside the reception space, doesn't mean the other areas are insignificant.
Where will your guests enter at the wedding? If the beginning portion of the day will be held outside under natural light, obviously there is no need to add artificial lighting. But, will guests return to that same space at any other point in the evening when the sun is down? A great way to keep the design flow and surprise your guests is to have a lighting design set up once it's dark outside.
"Most couples forget that their venue expands beyond the reception room. Why not highlight the beautiful grounds? Trees and foliage are great natural objects to light up," says Bonkosky.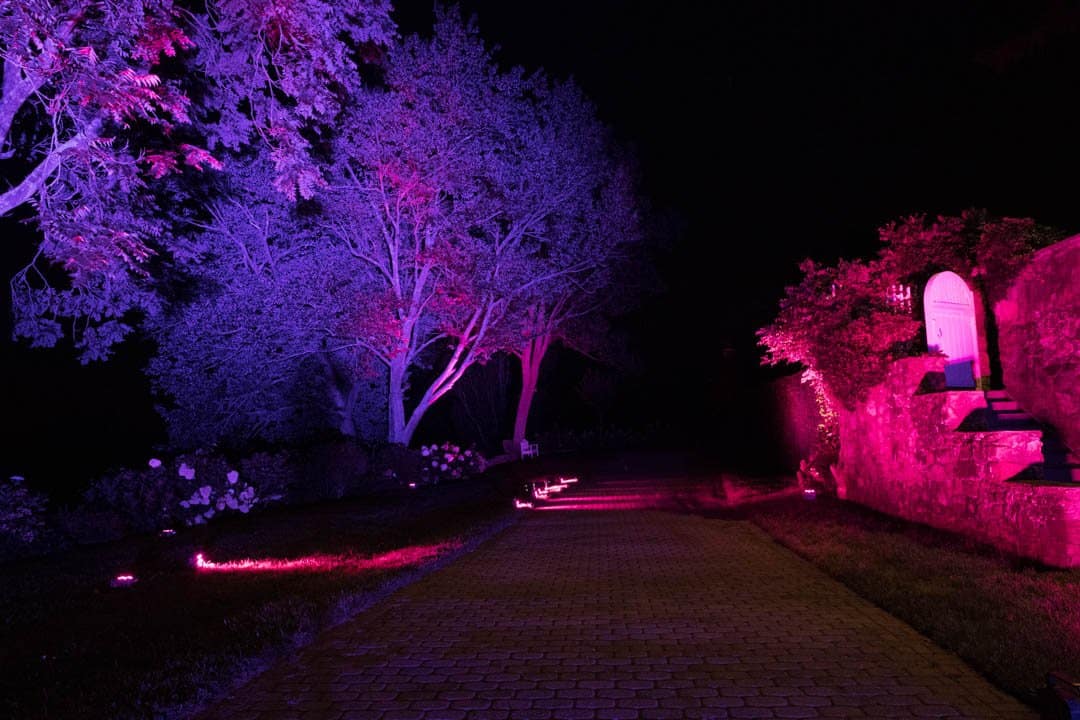 If your wedding date falls during a month with limited daylight available, or if you aren't utilizing the outdoors at all, that's no reason not to create a lighting design in other spaces. For example, you can create that same reception room glow within your ceremony or cocktail hour space. Perhaps there is a large showcase piece at the center of your escort card table that would look even more luxurious with strategically placed pinspots. Walk through the entire space to explore the options you have.
Speaking of walking through your wedding location, it's also important to have a conversation with the venue coordinator about lighting. As a wedding planner, I will never put any ideas in the heads of my couples unless I know it can be done within the space. This means not falling in love with any look that is too specific, or even hiring an outside lighting designer, without talking it over with the venue first.
According to Bonkoksy, there are specific questions you should ask the venue before moving forward with lighting design:
How much power is available? Separate circuits and how many amps?
What is the ceiling height of the reception room?
What type of lighting is already onsite?
Are your chandeliers and sconces dimmable?
If your venue allows outside lighting designers, it's helpful to find someone who has worked in the space before, but it's not completely necessary. Even if the designer has worked at your wedding venue, if you are looking for a unique design, s/he might want to schedule a site visit.
Knowing the power that is available is a question that many vendors will need the answer to. As you are booking with your vendors, it's important to keep track of the power details within the space and who needs what. At creative locations, power could be harder to come by, forcing your lighting designer to bring in either battery operated lights or longer cords. In this case, a site visit isn't just a good idea, it's mandatory.
All venues will have lighting in some capacity. Perhaps these are chandeliers or wall washes are already installed and thus, controlled by the venue. In some cases, a venue could handle all the basic lighting, and only allow you to bring in an outside designer for the more creative ideas. It's very important to find out all this information before seeking out a lighting designer.
When hiring a lighting designer, just like every other vendor, not all companies are the same. Setting up the lights for the wedding day is only part of the job. Many times, it's a good idea to have at least one lighting technician on site. This allows for color changes or any other adjustments that need to be made throughout the wedding day. This also means someone will be there if any problems occur.
"Your lighting technician is the most important part of your lighting design. They know where to place items, control those items, listen to the music, read the crowd and run the lighting accordingly," says Bonkosky.
Along with countless other things to consider when choosing a wedding venue, be sure to find out everything there is to know as it relates to lighting. Once you have selected your wedding venue and start the designing phase, be sure to seek out lighting vendors and make that an essential part of your wedding budget. Subtle or not, lighting will draw attention to every other design element, and should be planned early in the process.
Lighting design for your wedding can be as simple or as extravagant as you want it to be; but it should always be included. Though the wedding day is just a few hours long, think about the months or years leading up to it that you spend designing and creating your vision. How that vision appears to your guests and in your photographs is completely dependent on your lighting design; it's that important. Every couple is looking for that unique wedding design, and when you incorporate lighting, you can make that a reality.