Sometimes the weight of

tragedy is so great that it feels like there will never be another sunrise. And when one tragedy leads to another and yet another, all hope can disappear into the darkness, with happiness feeling forever irretrievable. Such was the case for both Tiffany Gordon and Kelvin Farmer, whose lives, separately, had known long, downward spirals, but yet led to a beautiful wedding love story.
Kelvin's tragedies began shortly after what had been a joyful occasion—his marriage to his first wife. At the time of their wedding, Kelvin and Octavya were expecting their first child. Sadly, there were complications, hints of which emerged on their wedding day, but which came to a head just four months into their tender marriage when Kelvin's wife went into premature labor. On that day, Kelvin lost both his wife and his baby. It was a cruel blow of fate that left Kelvin grief-stricken.
Then, just six months after laying his late wife and child to rest, Kelvin's 23-year-old son was murdered in a carjacking. The shock and horror were unimaginable. Kelvin was incredibly proud of his son, who had just graduated from the fire academy in Tallahassee, Florida. The graduation had marked a turning point for them both; they were moving toward better things.
Overwhelmed, Kelvin retreated into a state of depression for two and a half years, staying at home and isolating himself from a world for which he had no emotional reserve. It was only in late 2020 that Kelvin returned to life outside his house, putting all his time and energy into his luxury transportation business. It was this purposeful work that kept him going, giving him an excuse to get up in the morning.
On the other side of town lived Tiffany, another industrious business owner, financial controller and accountant. Tiffany was an exceptionally hard worker whose life was also closely entwined with family—her mother, father, siblings and her three children. Life was that delicate balancing act that single mothers know well. Tiffany somehow kept it all together through her tenacity and big heart. Then unexpectedly in 2017, Tiffany lost her mother, her pillar of strength. It felt like her world was falling apart. Only three years later came the death of her sister, and then in 2021, the death of her brother. Tiffany's grief was relentless.
Yet through all of this loss, Tiffany understood that first and foremost there were mouths to feed and children who needed their mother, so she did what had to be done. She picked herself up and put all of her energy into her work and parenting, shelving all of that grief for another day.
How They Met
So when and where, exactly, did the beautiful story of Kelvin and Tiffany begin? Let's just say there was not that immediate spark, as all was far too damp from tears and grief. The powerhouse of love that would become "Kelvin & Tiffany" grew slowly, as both cautiously began their ascents from sorrow and despair.
The first meeting occurred when Tiffany hired a party bus for her late brother's birthday through Kelvin's transportation company. They struck up a friendly conversation, and in doing so, Kelvin learned that Tiffany was an accountant. Kelvin had been looking for someone to take over the books for his business, and it turned out that Tiffany had just the skills he needed.
At first there was no romance, just friendly chatter and, of course, business-related discussions. Both were reluctant to talk too freely for fear of opening up what were still very fresh wounds. But over time, as they caught glimpses of one another's suffering, they began to open up to each other. In the process, they realized their experiences made them uniquely able to comfort one another.
Tiffany's greatest gift to Kelvin was showing him it was OK to hurt and have bitter feelings. She encouraged him to express what he felt, rather than holding his feelings in and becoming consumed by them. Releasing those strong emotions, then setting them aside to feel some joy helped Kelvin reconnect with the world.
Kelvin's gift to Tiffany was showing her how to love again. Tiffany had hidden in her work, fearing love and the great losses it can bring. Kelvin drew her back into the world of the living to be with the other survivors, whose love she needed, Kelvin being one of them.
The Proposal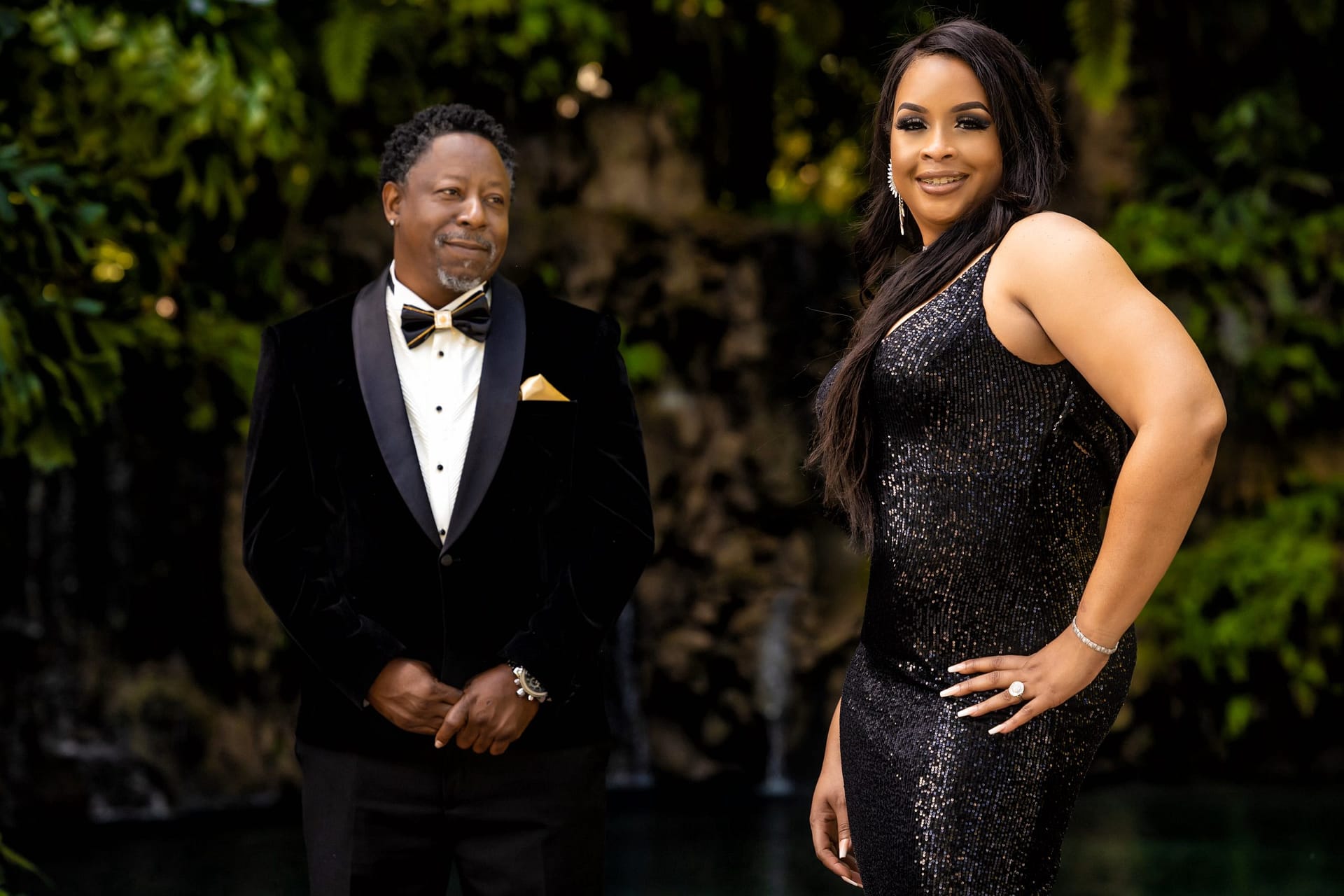 Slowly, Tiffany and Kelvin blended their lives, with Kelvin becoming an important part of Tiffany's family. Kelvin provided much-needed emotional support to Tiffany's younger children, Camren, Janae and Jordyne, and he also became a wonderful companion to Tiffany's father, Mr. Gordon (and to B.J., the Gordon's beloved dog). Eventually, Tiffany and Kelvin felt the time was right to host a barbecue and get-together, whereby their respective family and friends could meet one another. They wanted folks to know this was serious, and that they were a pair.
What Tiffany did not anticipate was the turn of events that came next. In planning the party, the two of them had decided that part way through the evening they would gather up guests in the living room and have everyone introduce themselves. Tiffany had no idea that Kelvin intended to propose. As all were gathered in a circle with their beautiful and supportive faces beaming, Kelvin dropped to one knee and made his request: "I Kelvin, want to know if you, Tiffany, Camren, Janae, Jordyne, Mr. Gordon and B.J., would marry me." Tiffany, in tears of joy, gathered up her children and father. They huddled together and Tiffany, wide-eyed, whispered to all, "Are we saying, 'Yes?'" Jordyne, her youngest daughter, blurted out, "Mom! What do you mean?! We are marrying him!"
A few weeks later, at Shooter's Waterfront in Fort Lauderdale, Kelvin and Tiffany enjoyed a formal engagement party, celebrating once again this joyful turning point in their lives.
The Wedding Details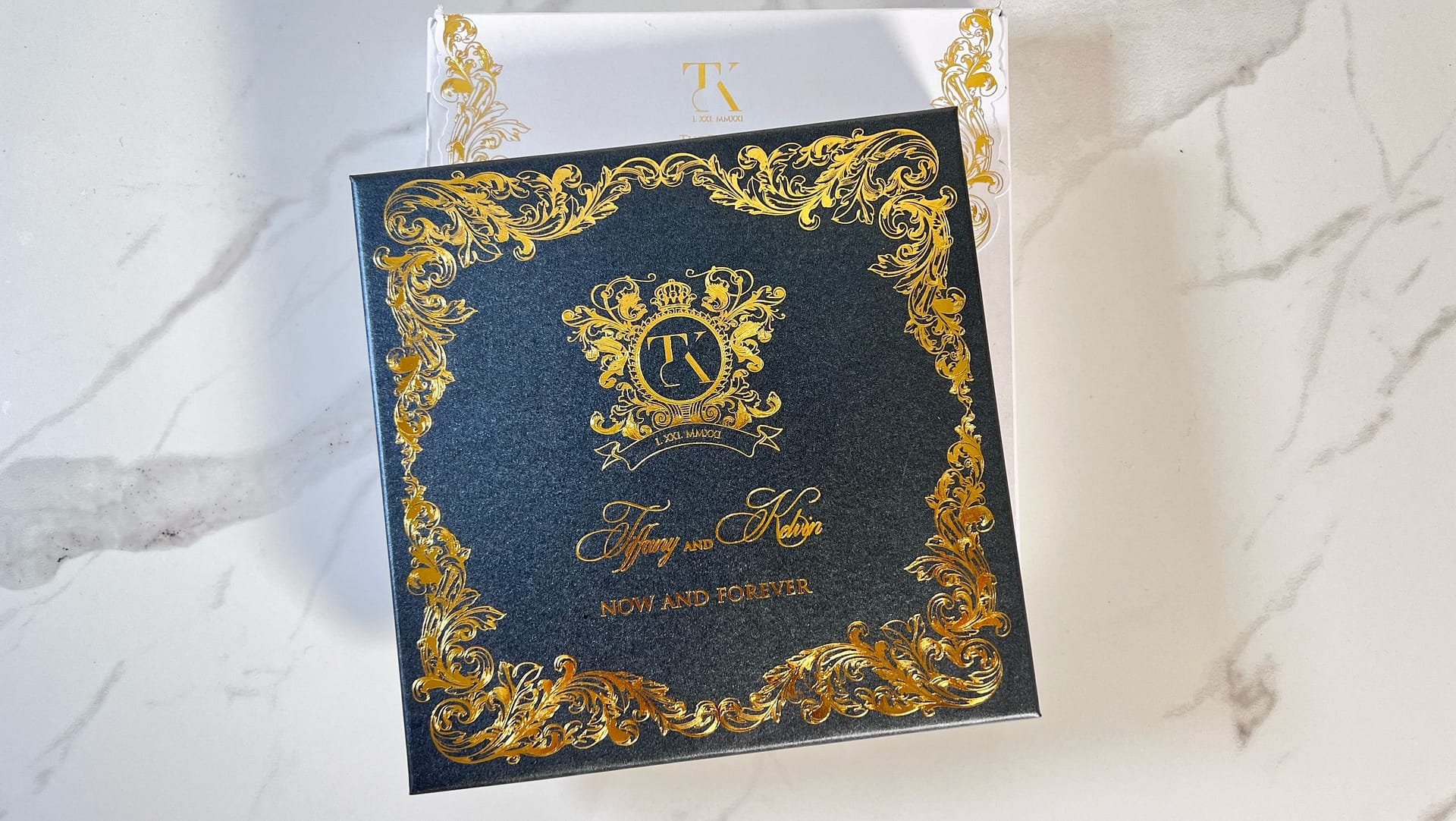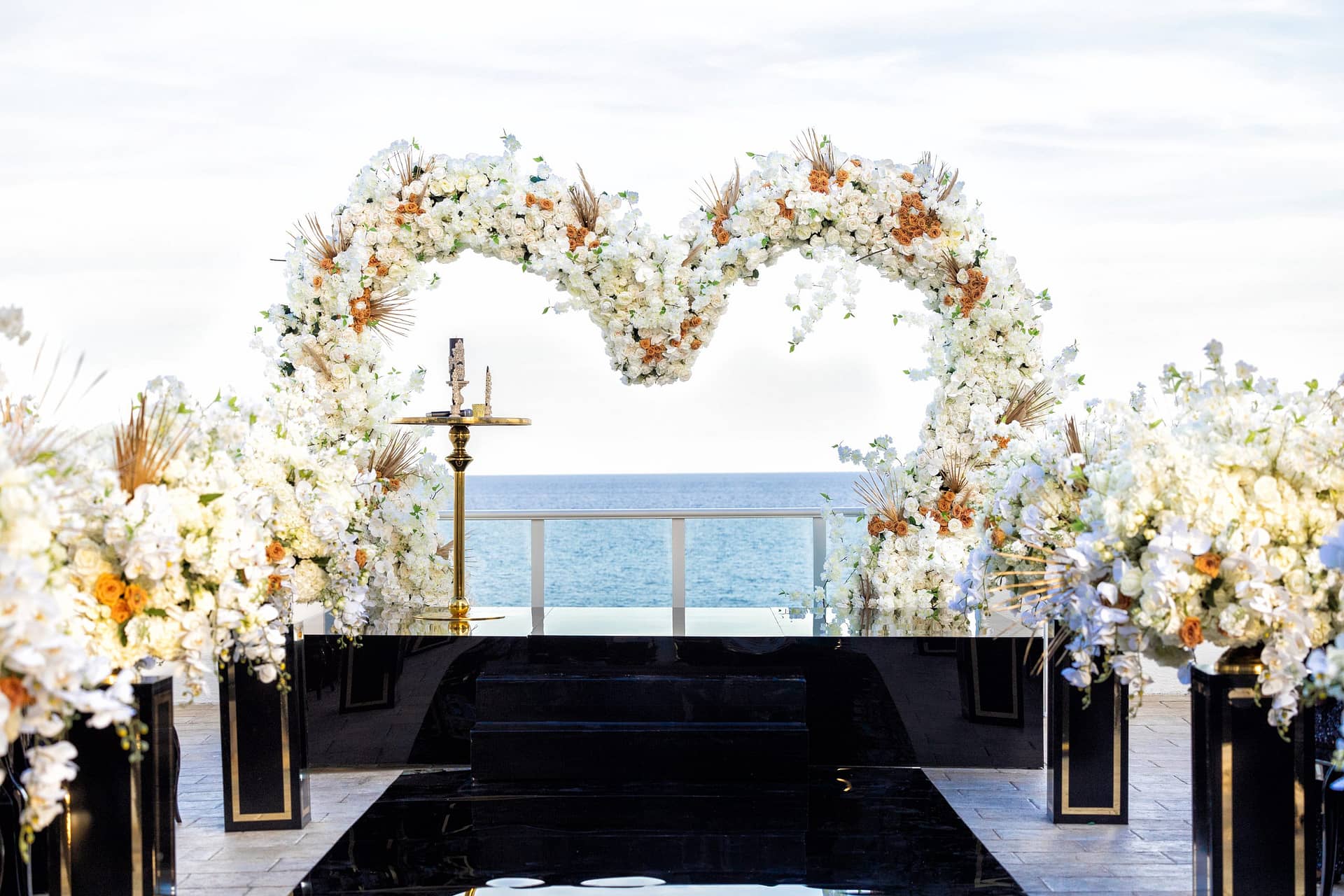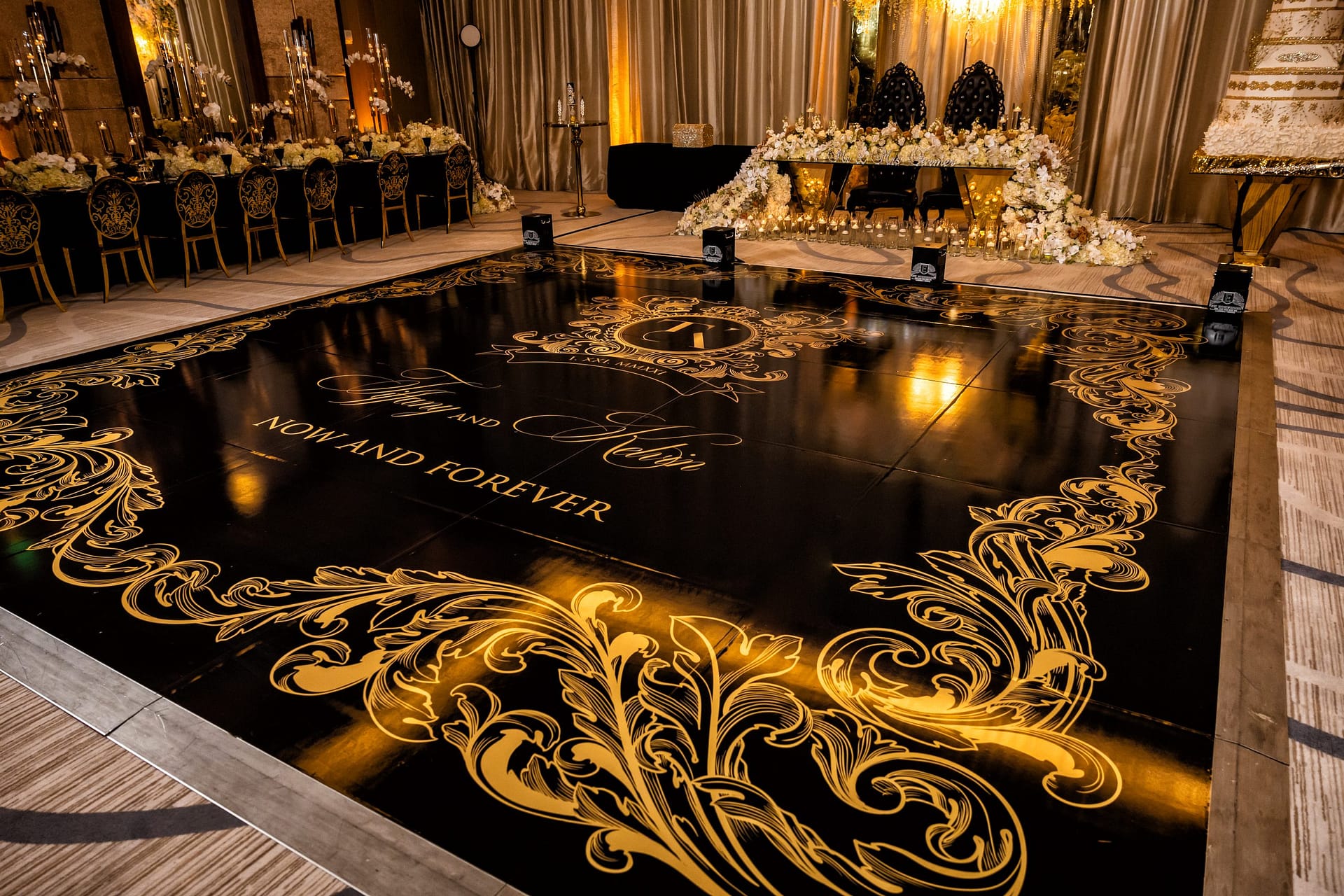 As Kelvin and Tiffany began their wedding planning, one thing was clear: Their special day needed to be over-the-top. Both had gone through so much, and it had taken all they had to emerge from their grief, but they had done it. Together. And that was something worth celebrating to the max. Thus emerged the concept for their celebration: "The Royal Farmer Wedding."
Kelvin engaged the services of South Florida-based event planner Tawanda Sims of Elite Events by Tawanda. Kelvin knew Tawanda well, as she had been the coordinator for his first wedding. Kelvin made it clear that he had no thought to replicate anything from the past, minus Tawanda's immense support and kindness, which she had shown toward his family on past occasions. And, of course, there was Tawanda's planning and design prowess and her amazing vendor connections. Kelvin felt Tawanda offered just the type of support two busy professionals needed and that she was up to the task of making their wedding day an extravaganza!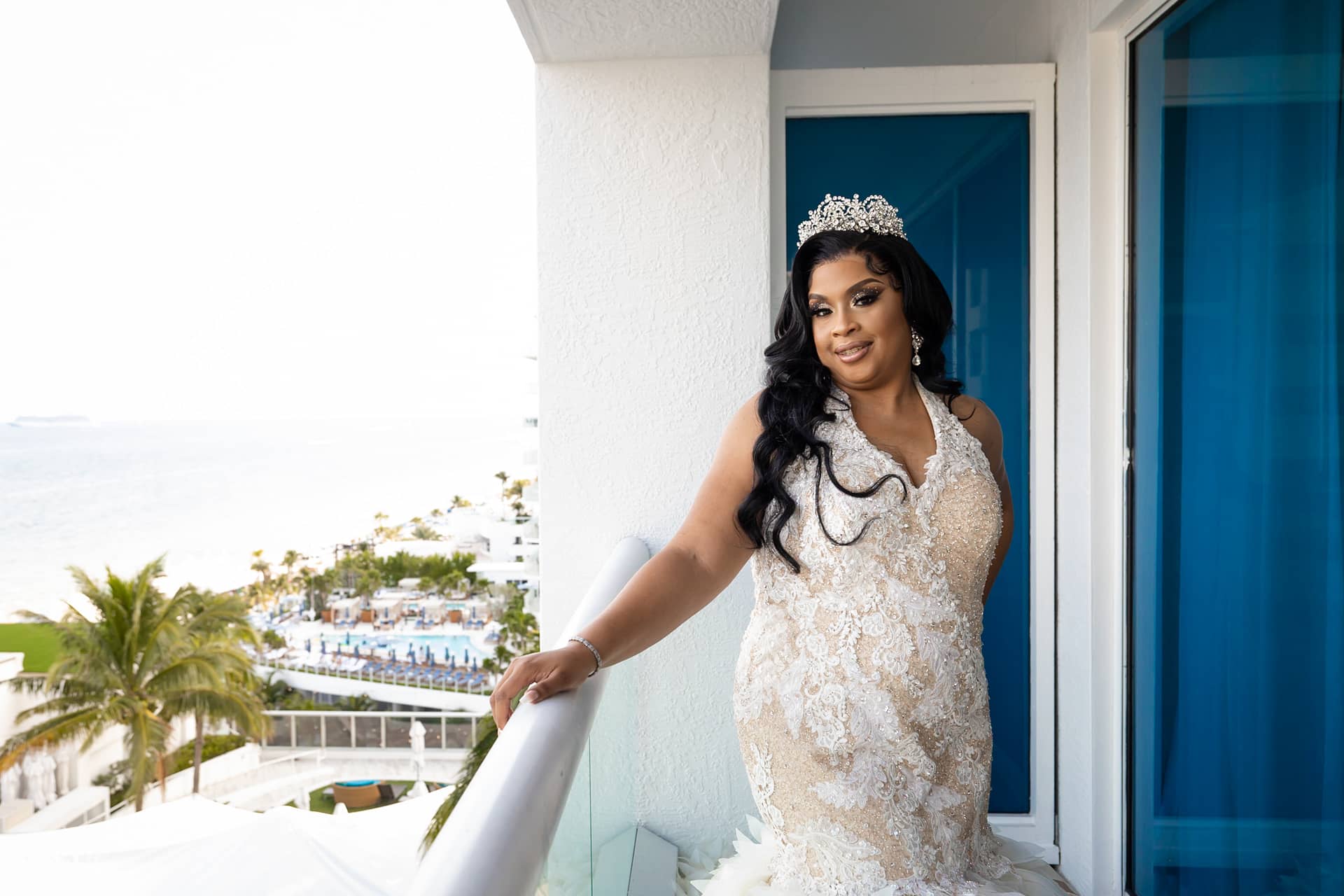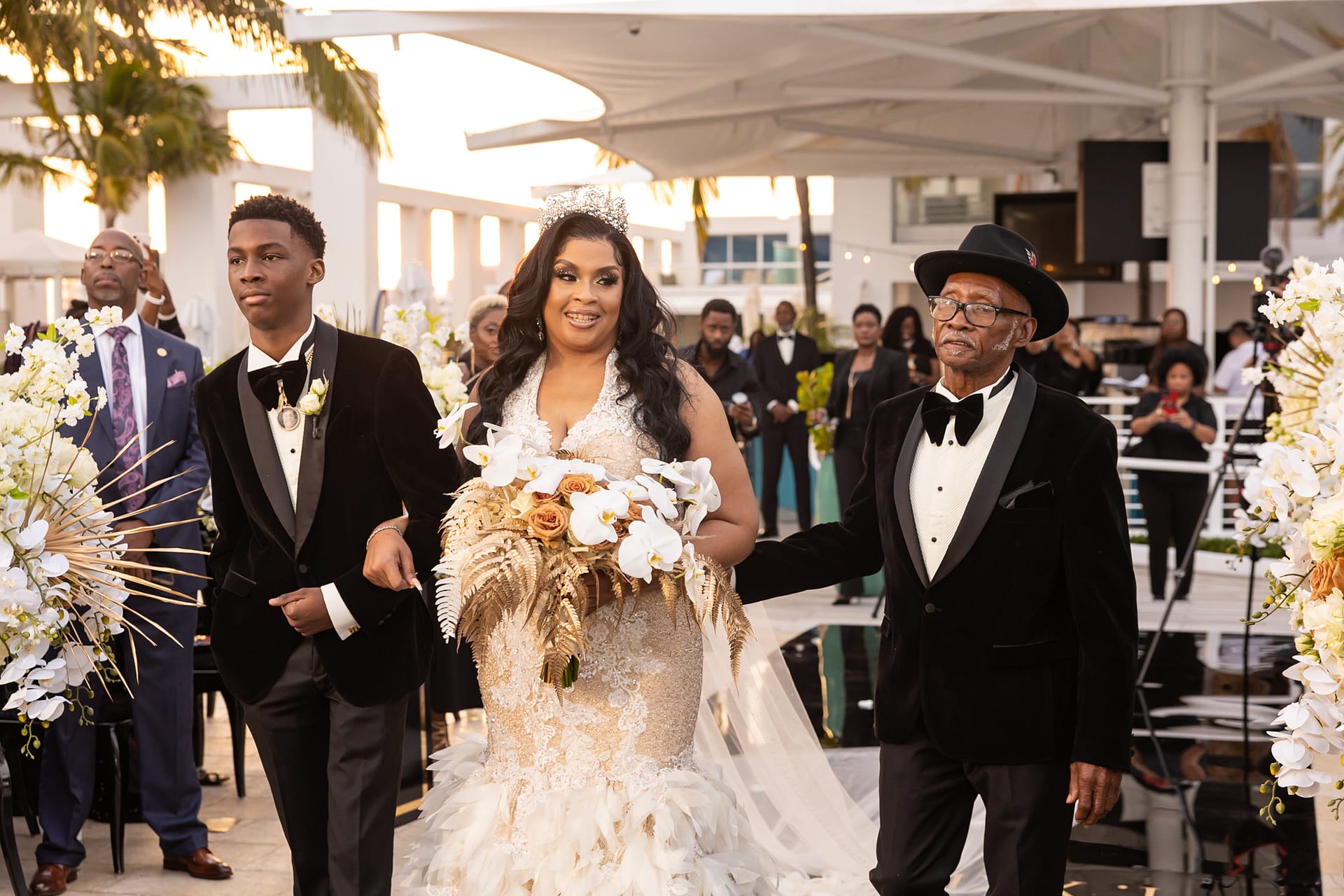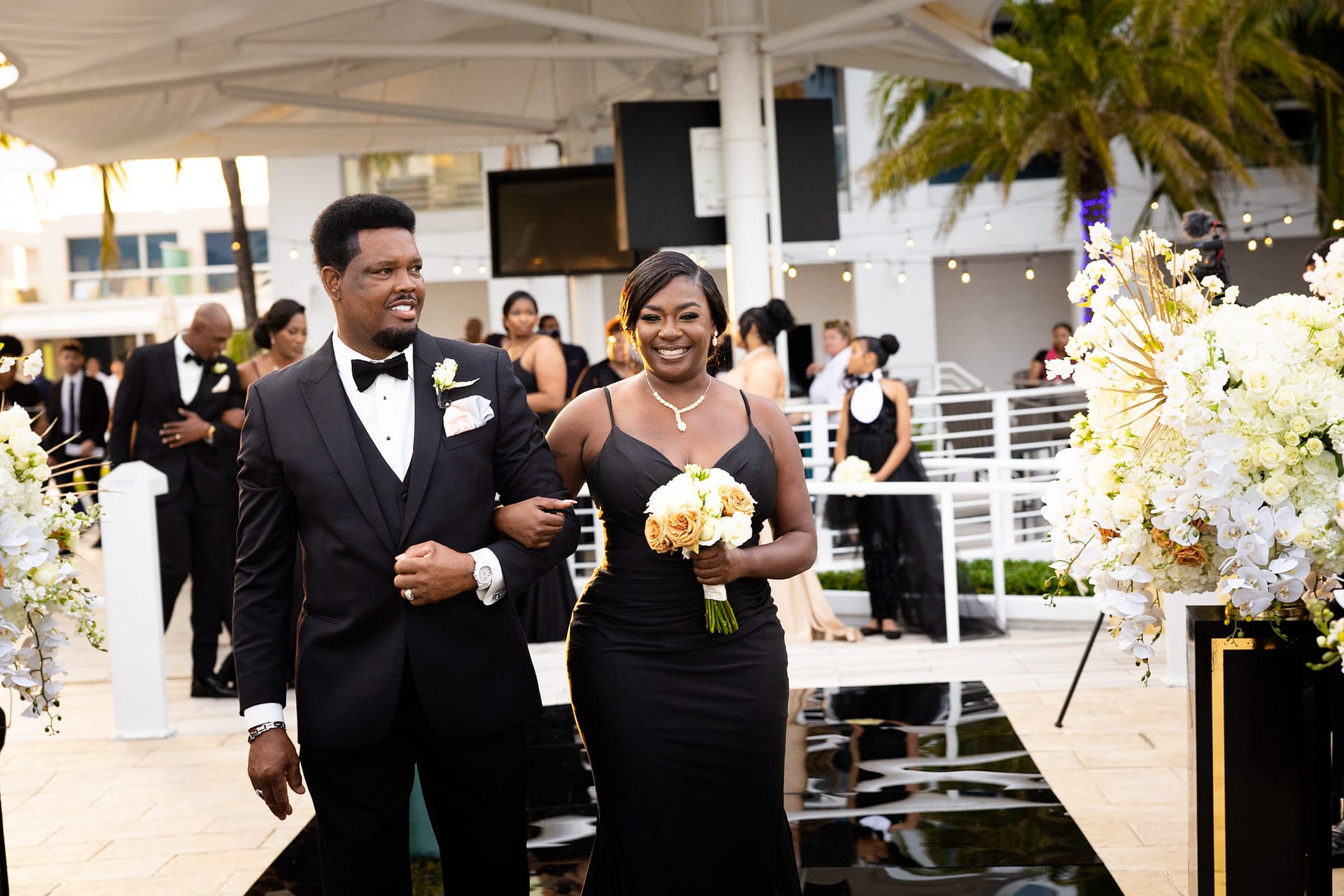 Tiffany threw herself wholeheartedly into planning their royal wedding. Imagine this … a woman with fabulous taste who could wrangle the financials of any business while juggling the needs of her kids and household—Tiffany was up for this challenge and excited about it to boot. Kelvin made it happen for his "Queen," encouraging even more bells and whistles as details were getting buttoned up.
Early in the process, Tiffany and Kelvin settled on the 5-star Conrad Hotel in Fort Lauderdale as the wedding venue. The ceremony area is situated on a pristine white sand beach with the aqua blue ocean beyond. Now, imagine this setting at sunset! In keeping with their "royal" concept, Tiffany settled on a black and gold color theme, with florals in ivory, dusty mauve and champagne.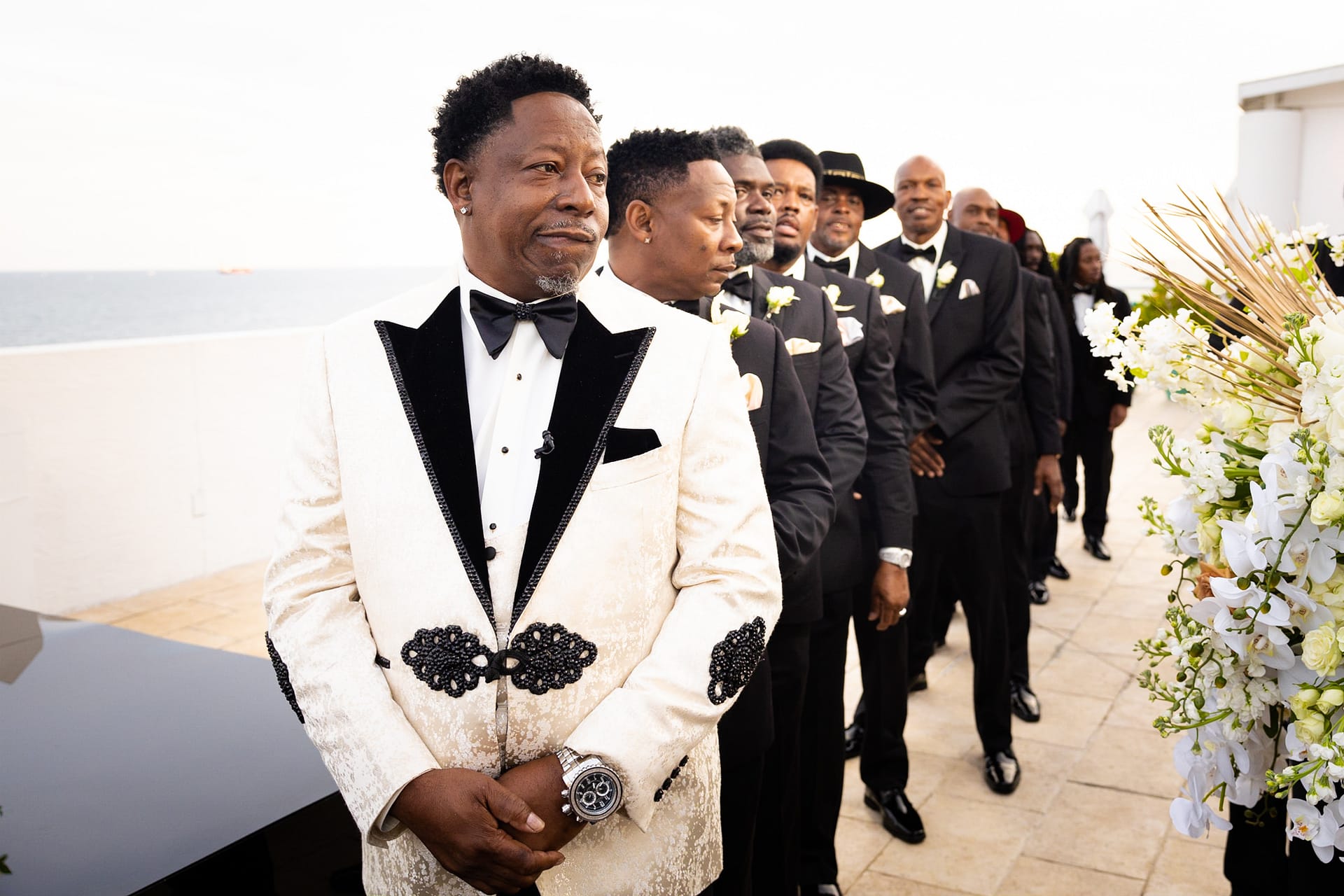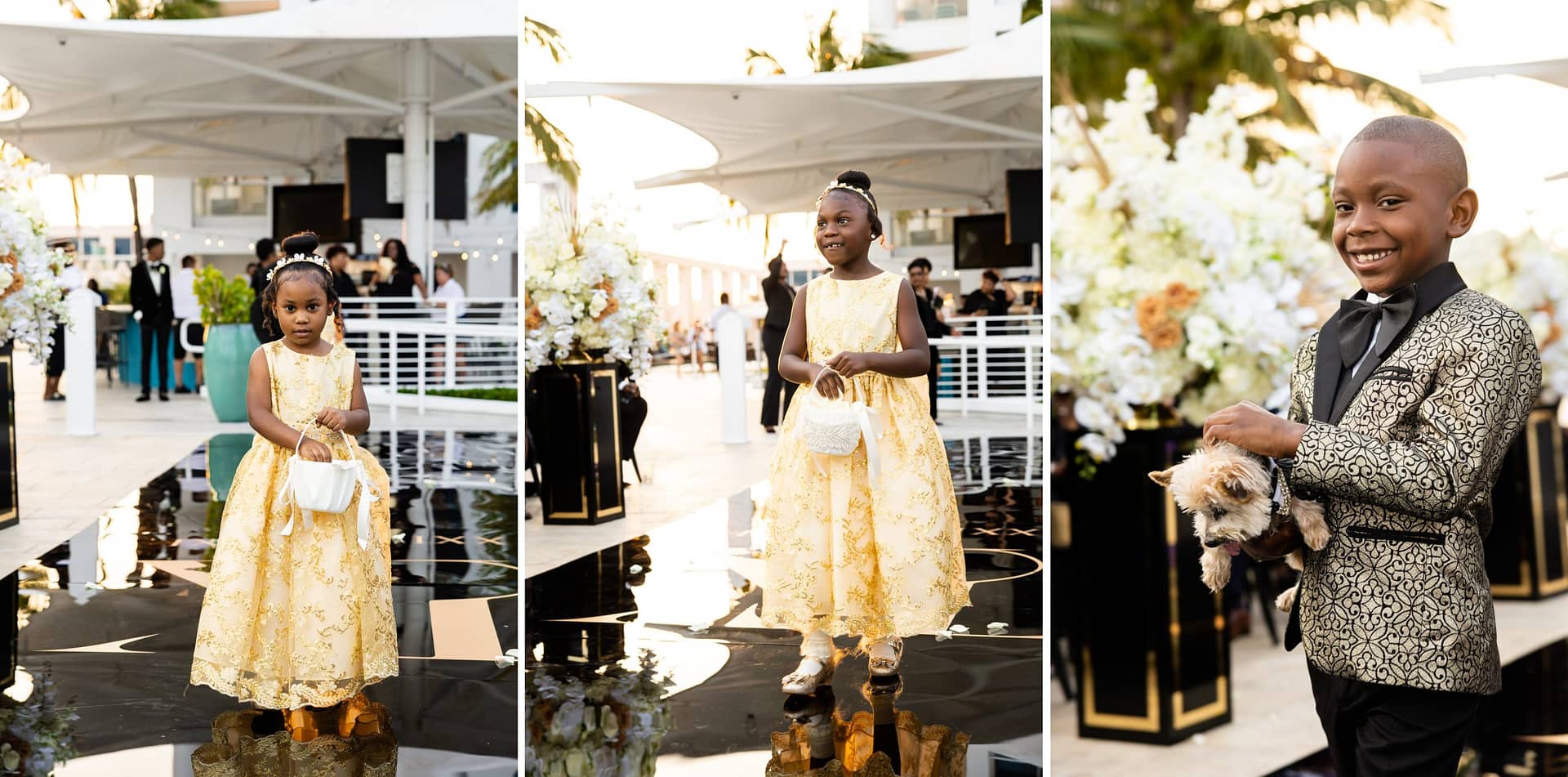 The ceremony vignette was especially lavish, with glossy black "Victorian" chairs and a custom, high-gloss black acrylic aisle runner with initials in gold. The processional aisle was lined with elegant, tall black and gold pedestals, each adorned with massive floral sprays of jumbo white hydrangeas, creamy tea roses and barista mauve roses, all dripping with strands of white phalaenopsis orchids. It is as over-the-top as you can get with wedding florals! The heart-shaped floral altar backdrop included similar floral types with the addition of gigantic ivory Ecuadorian roses. Tiffany's stunning hand-wrapped bouquet included perfectly unfurled cream and mauve roses with an orchid spray, all nestled between gold and cream-tone silk fern fronds.
Add to this opulent scene a royal, black-tie-attired wedding party and guests whose fashion statements could not have been more stylish and elegant. This beautifully attired and dramatically coiffed audience added as much to the "décor" as the actual décor itself! Caressing all were the ethereal sounds of a gold Lyon & Healy harp played by Crystal Sawyer.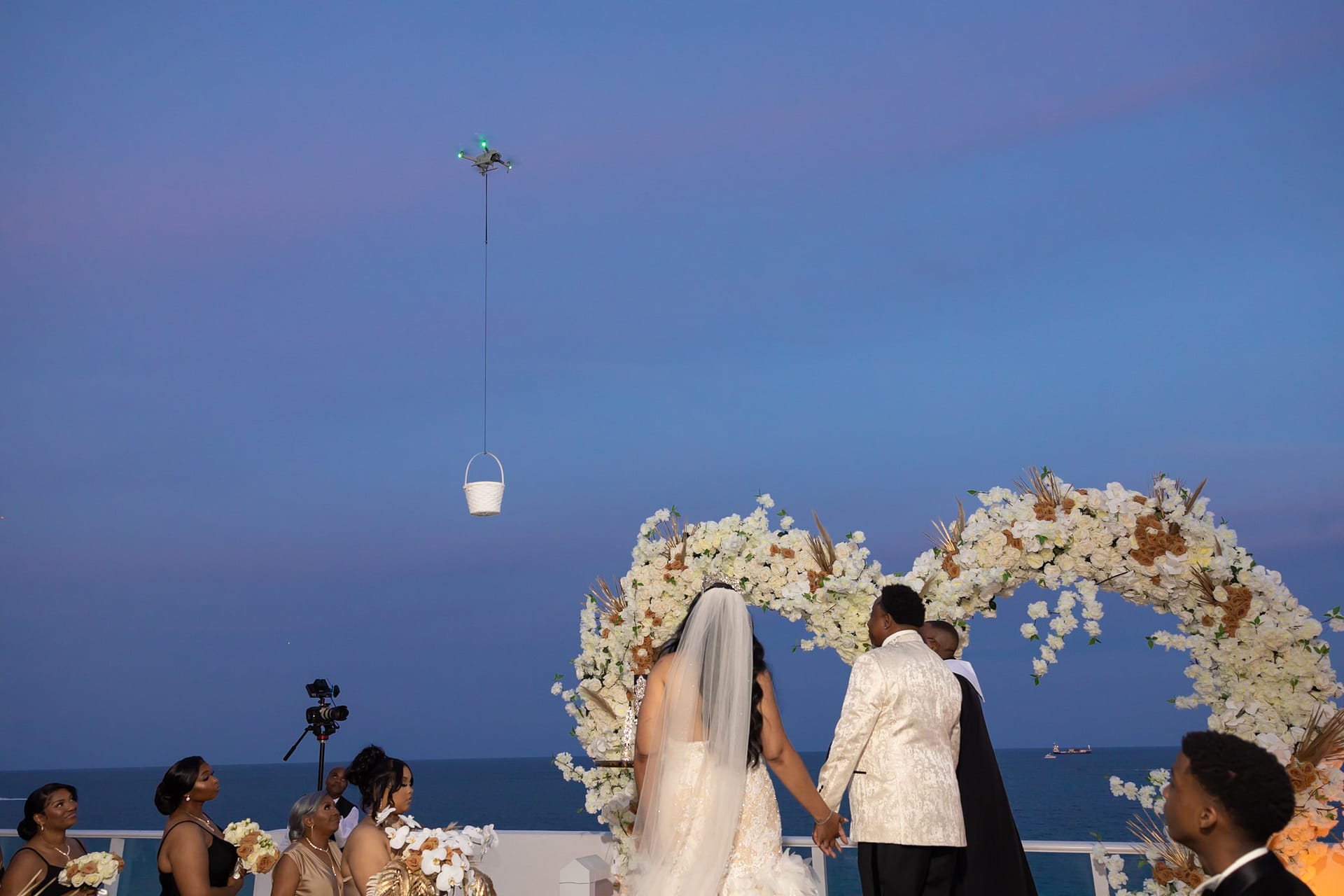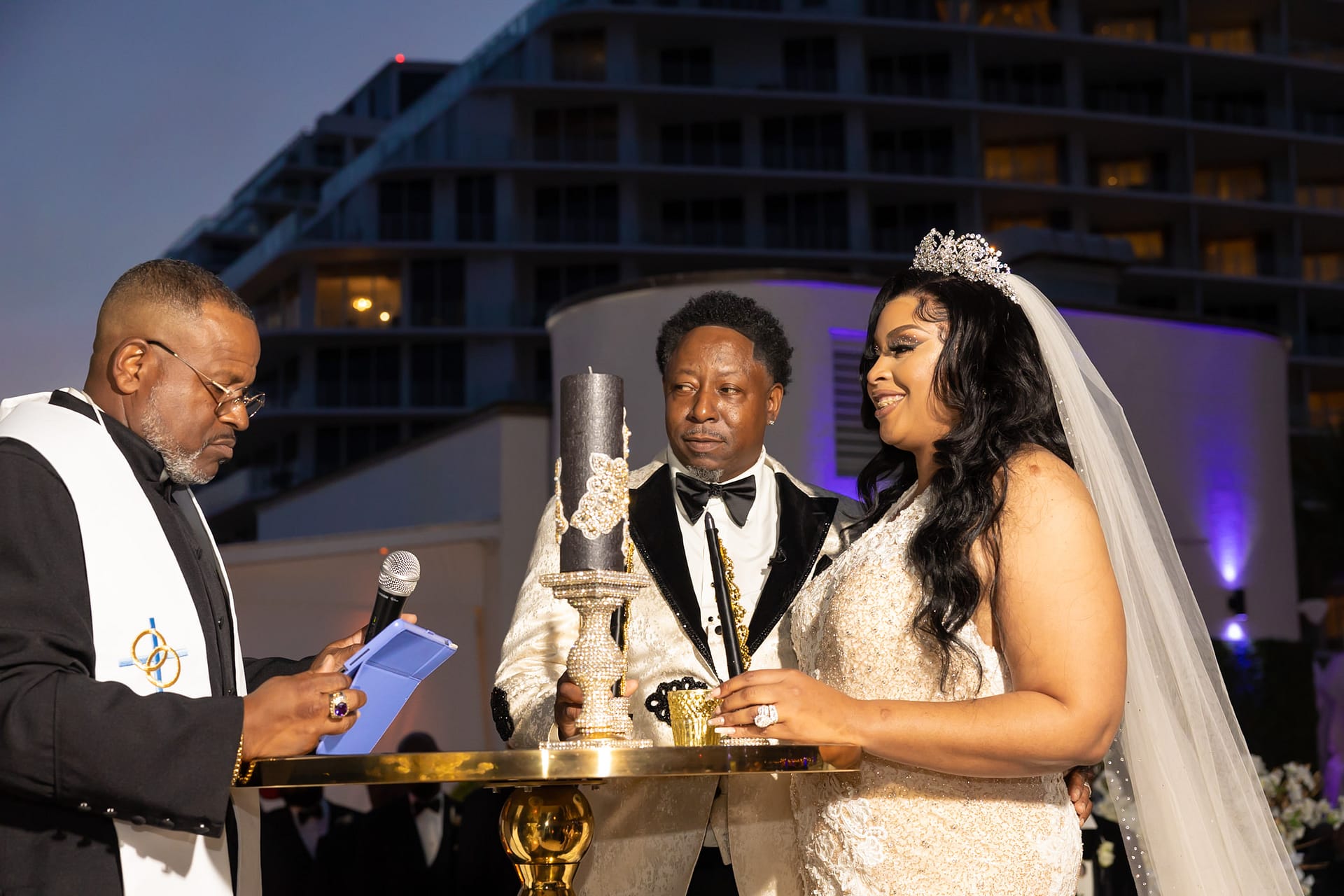 Other details not to be missed were Tiffany's designer dress from Zola Keller of Fort Lauderdale, with its customized beading and feather-detailed extended train . The beautiful halter-style bodice offset Tiffany's thick, long and softly curled tresses, which handily supported her magnificent tiara. Though family pooch B.J. acted as "ring security" during the ceremony, the real wedding bands were delivered (on cue) by a drone during the ceremony. Immediately following, and spontaneously, a beautiful flock of seagulls flew overhead.
The Celebration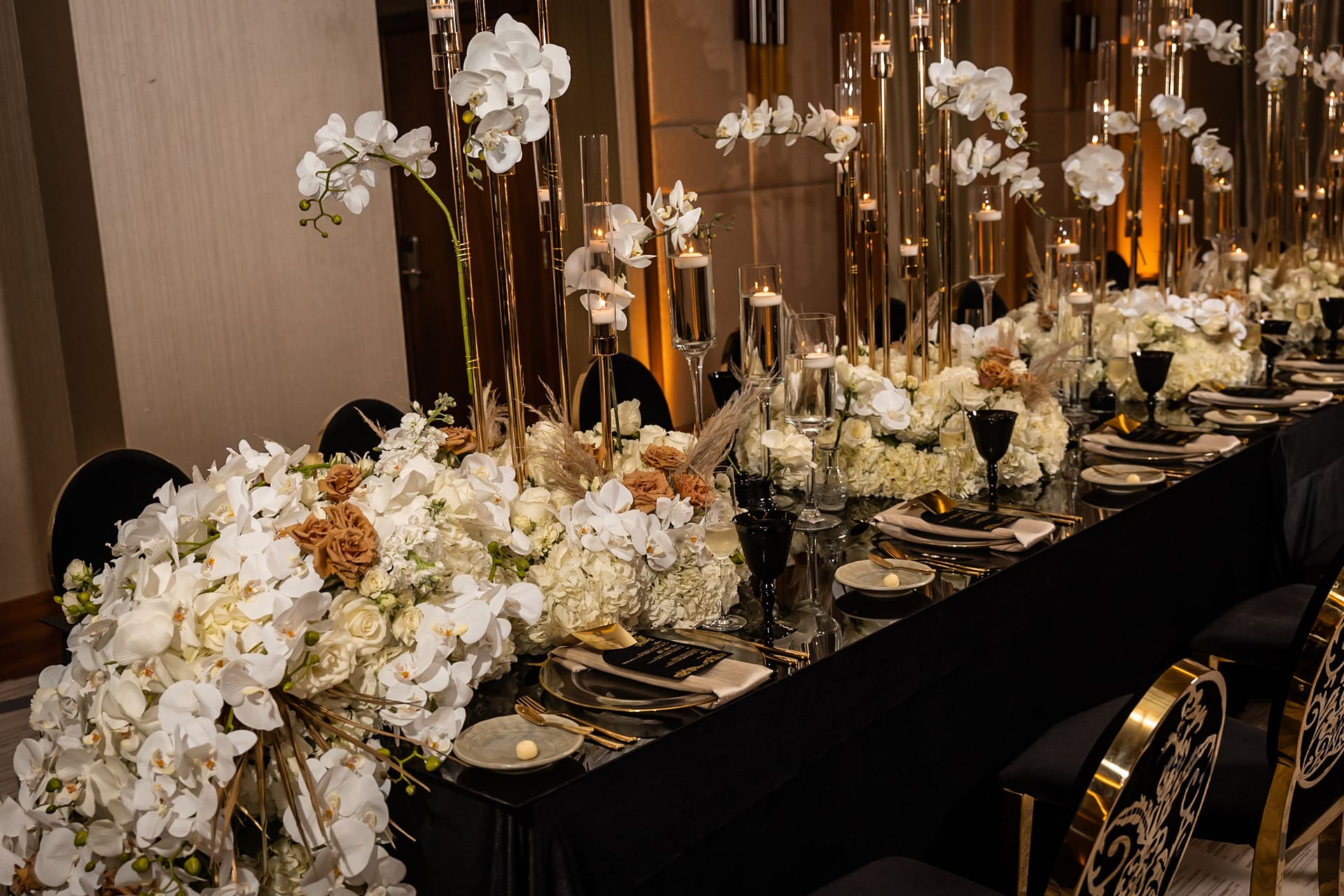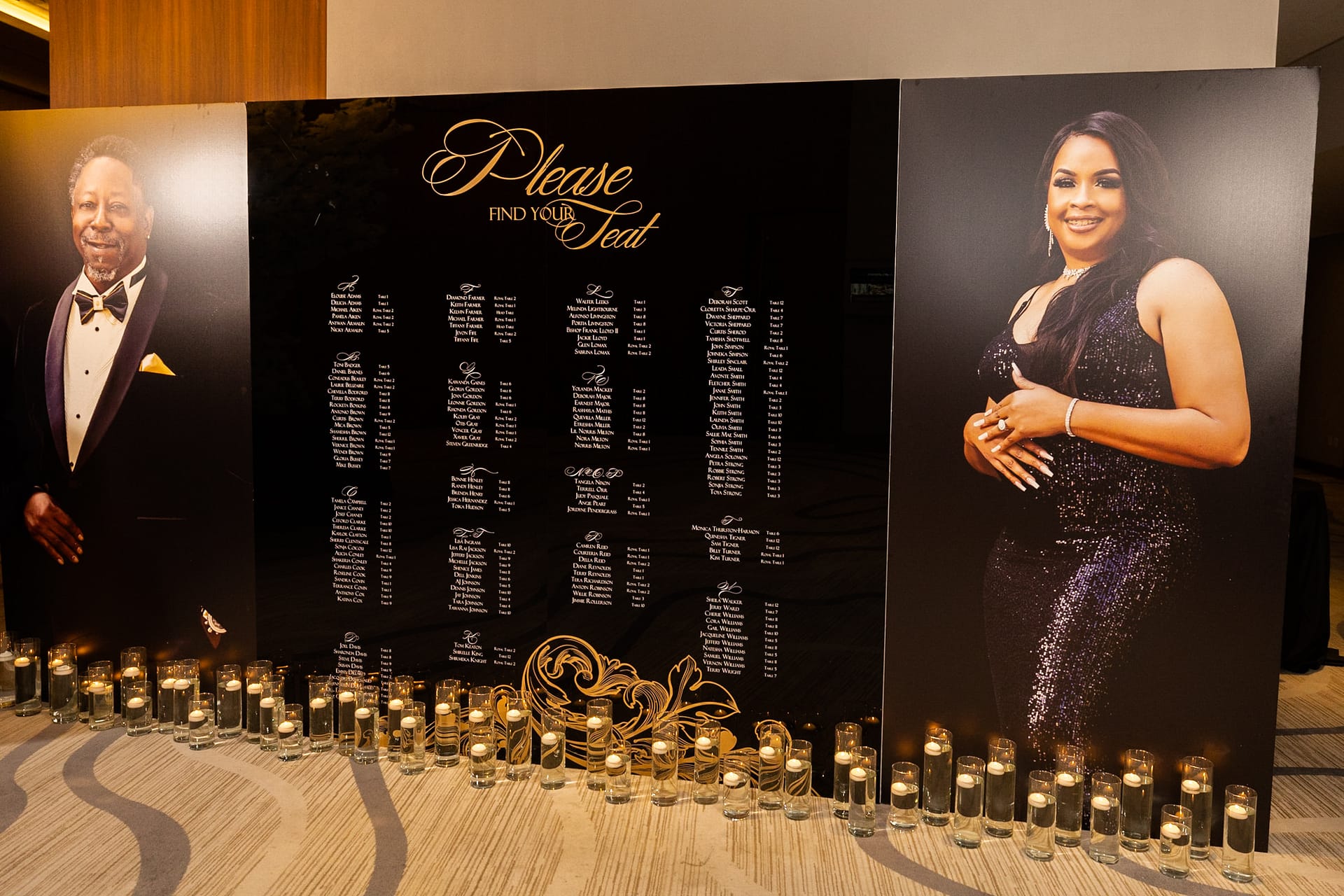 Post-ceremony guests gathered in the contemporary, understated elegance of the Conrad Hotel's lobby, all the while enjoying a wealth of entertainment for eyes, ears and mouths. Men enjoyed assembled-on-site, hand-rolled Cuban cigars, while ladies were drawn to Gary Palmer's luscious jazz instrumentals and vivacious motif dancers in full Vegas-style regalia. Especially inviting were the top-shelf liquors and incredible passed hors d'oeuvres: ribeye skewers, smoked lobster rolls and mini crabcakes, to name but a few. A towering display of white cherry blossoms stood in the center of the room, providing a bright, celebratory ambience to the space as guests perused the oversized table seating chart, which was flanked on both sides by life-size portraits of the bride and groom. All was illuminated by dozens of sparkly floating candles in clear glass hurricanes in assorted heights.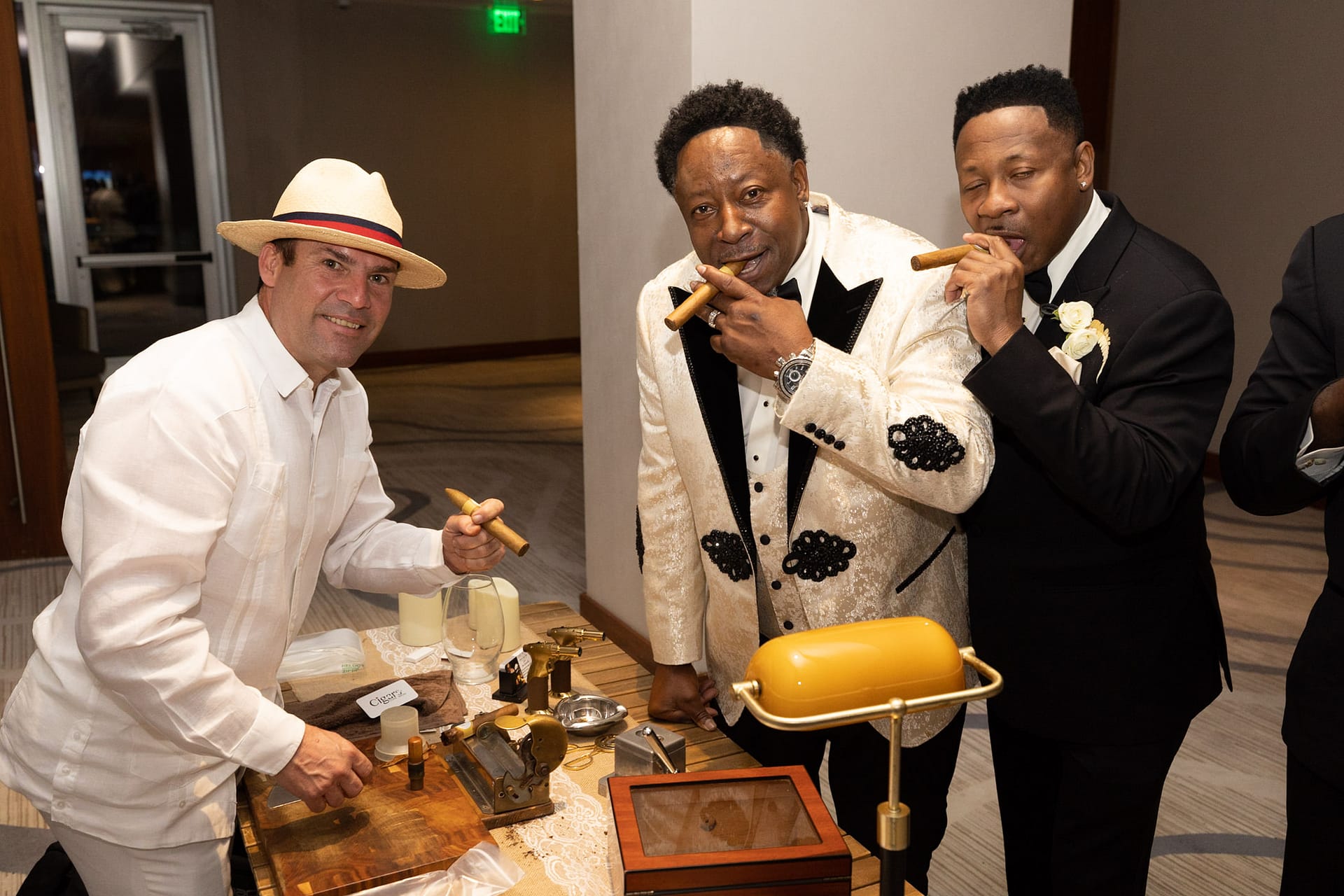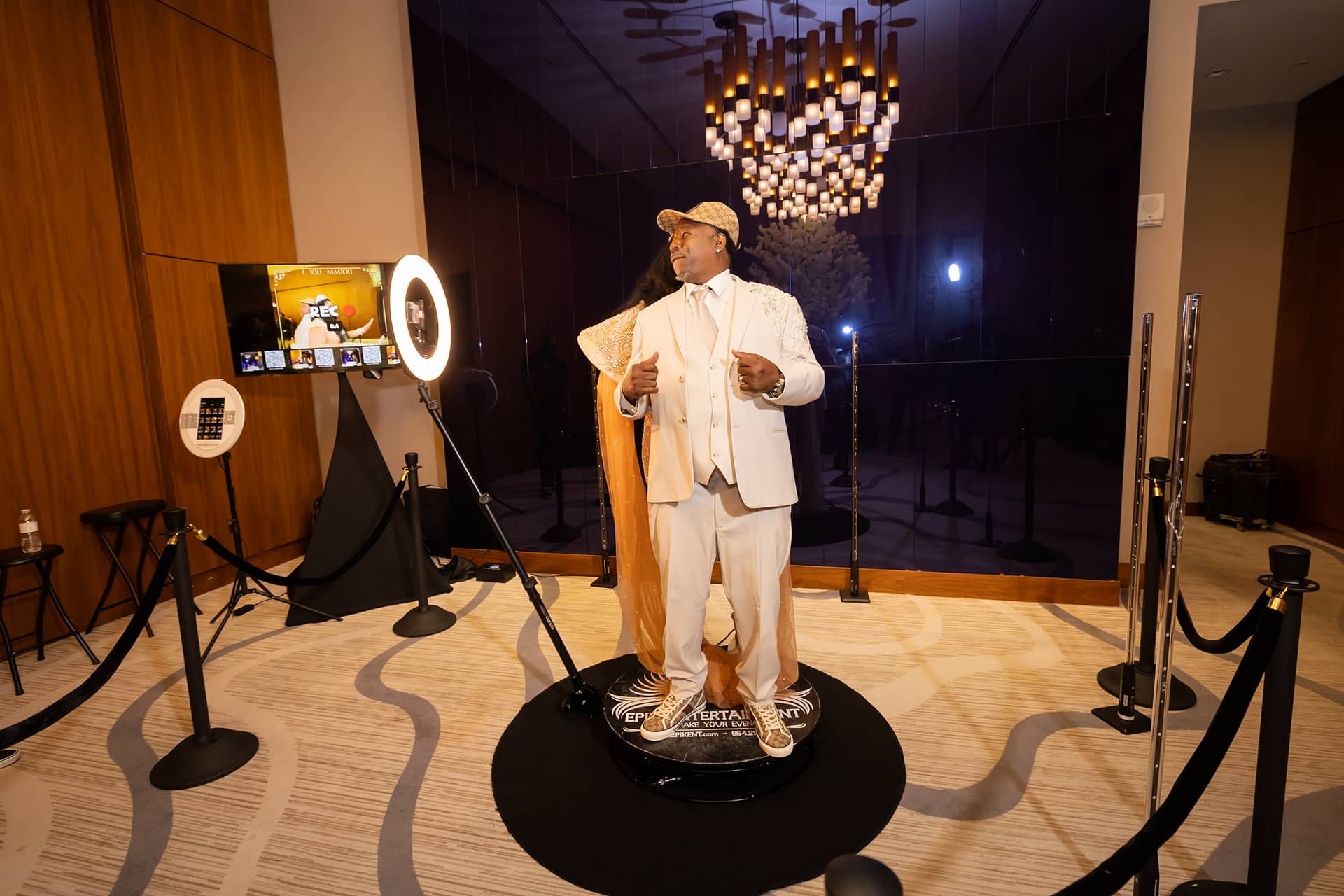 Guests were invited into the softly lit ambience of the hotel's banquet room. Offsetting the room's elegant yet neutral palette of creamy gray stone and natural wood paneling was Tiffany's theme of black and gold, which was reflected in both her table settings and the large dance floor. All was accented by massive florals in creams and whites, echoing the oversized roses, orchids and hydrangeas of the ceremony but with white cherry blossom branches drawn in to lend even more height to the table centerpieces, which were spilling forth from towering brass urns. Guest round tables were dressed with full-length black velour tablecloths and place settings defined by gold-rimmed glass chargers and classical gold flatware. Atop the chargers were simply folded satin ecru napkins with glossy black and gold menus atop. Clusters of gold mercury glass votives provided a romantic glow to the tables.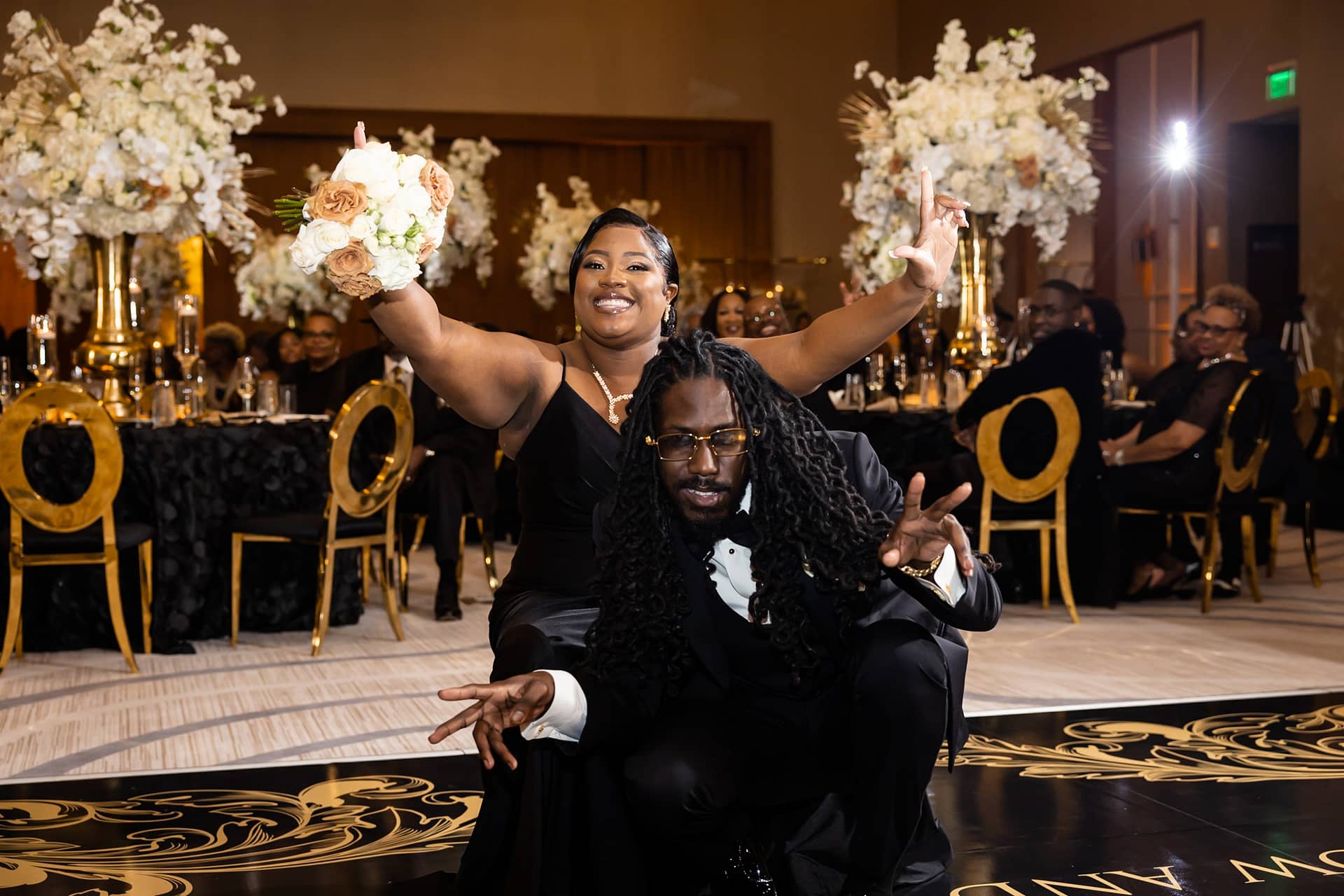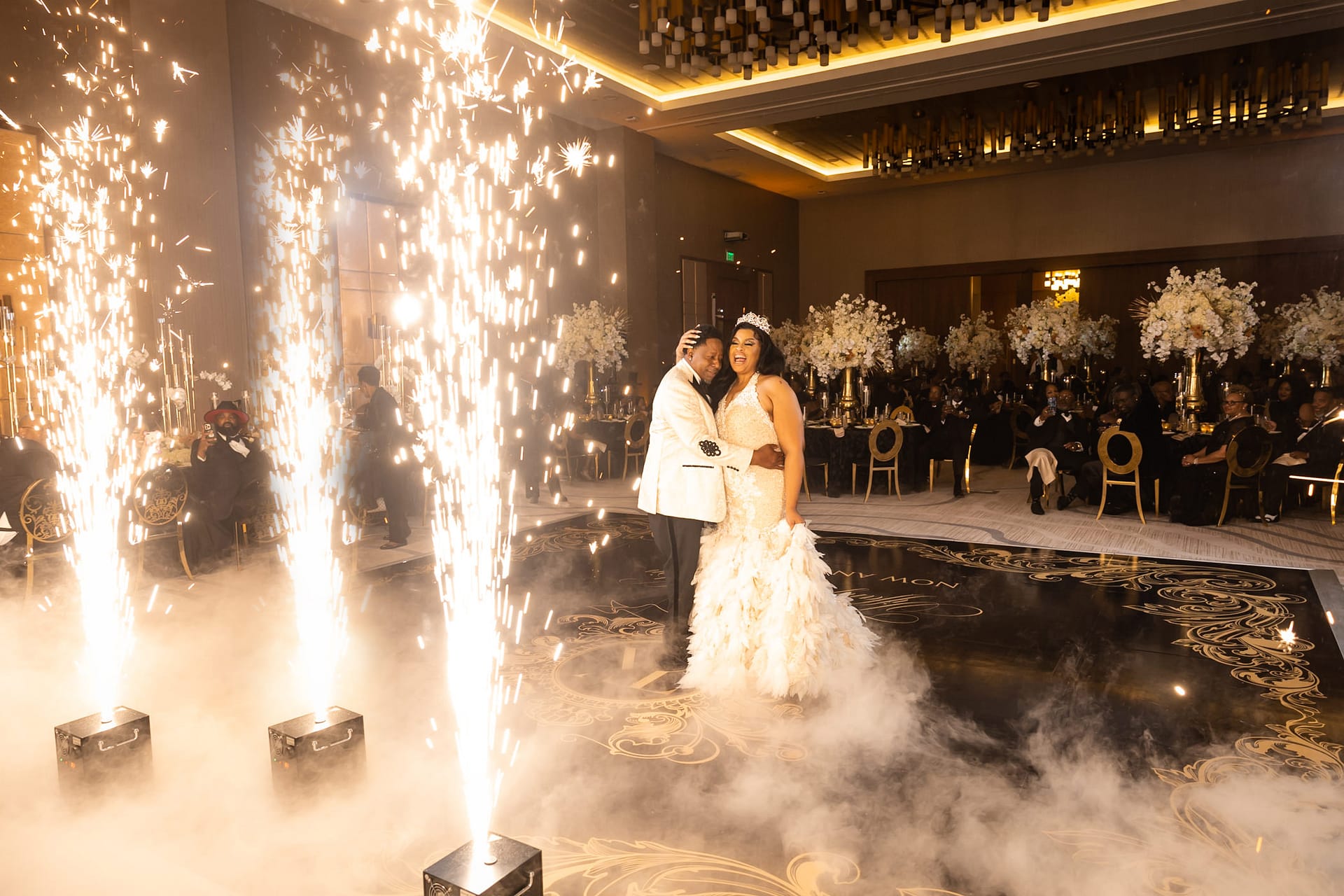 Flanking either side of the dance floor were long king's tables, reserved for VIPs and the wedding party. Down the length of these tables were modern-style polished brass candelabra (with a unique upward spiral), which were delicately detailed with white orchids and anchored with rich flounces of white, cream and mauve roses, hydrangeas and more orchids. Dramatic garlands of these same florals ornamented both ends of the tables, spilling romantically to the floor. The long tables were similarly dressed to the guest rounds but with black goblets added in, and there were intriguing differences in the chairs. The round table seating was comprised of the popular gold Oz chairs (from the Reflections collection), while head tables upped the ante with filigreed gold Dior chairs from the same collection. This gold filigree theme was carried through largely on the glossy black dance floor and then again on all eight layers of Tiffany and Kelvin's supremely royal (and tall!) wedding cake.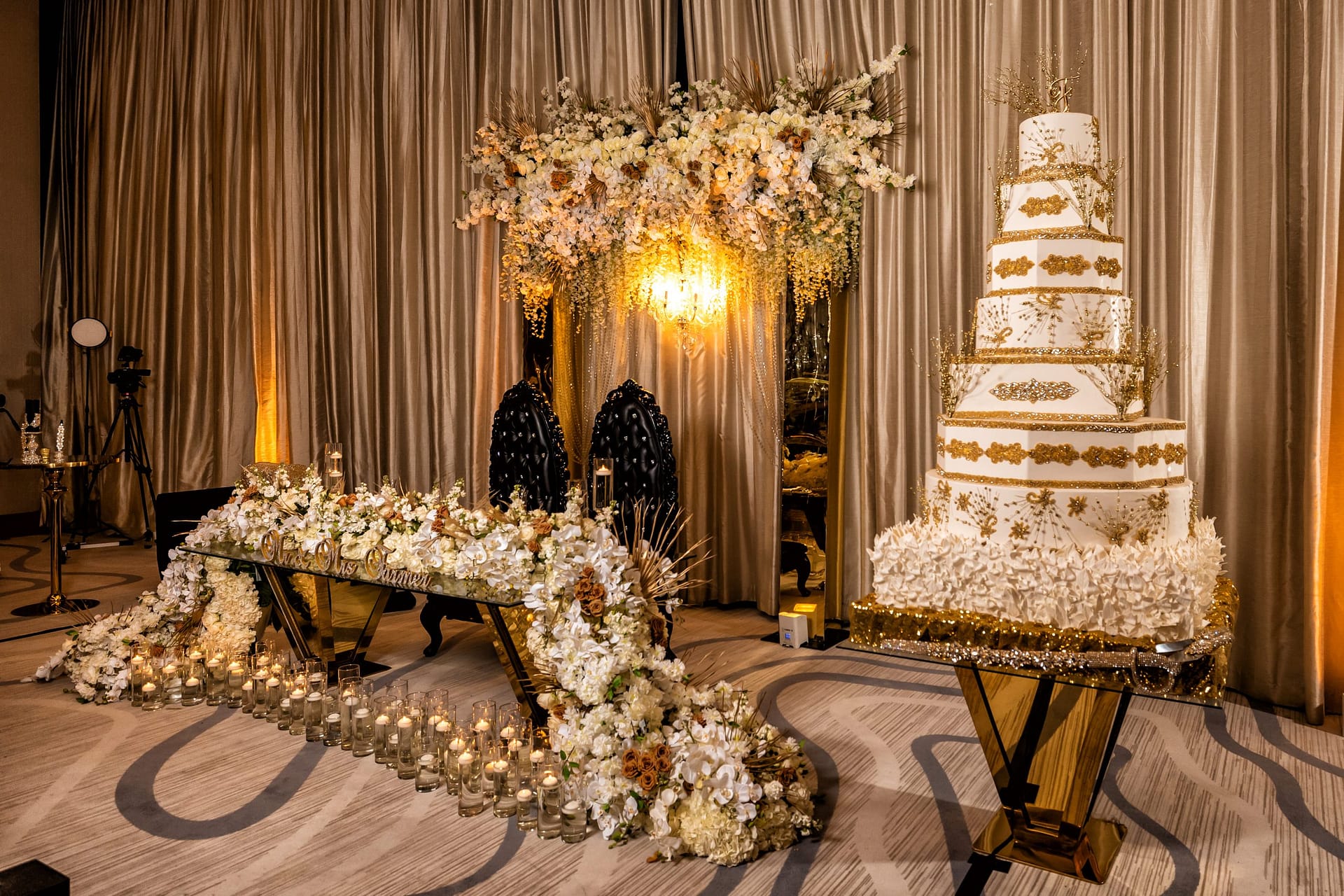 At the far end of the dance floor, positioned in front of ceiling-to-floor shimmering champagne drapery and under a dazzling canopy of flowers (replete with crystal chandelier) was the sweetheart table. Tiffany and Kelvin held court on ornate, high-backed black leather chairs, before them a table draped with a luscious floral garland and dozens of floating candles ablaze.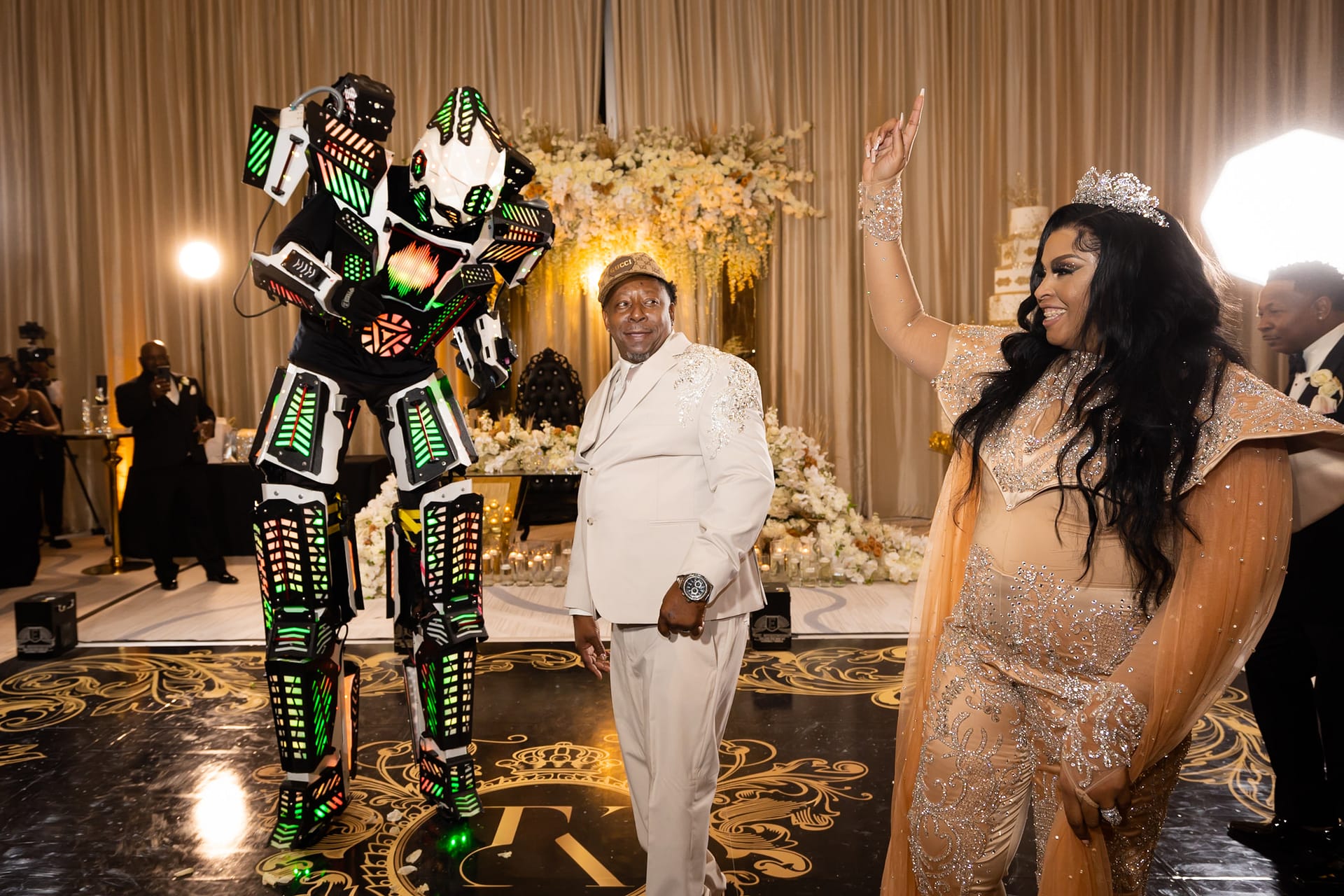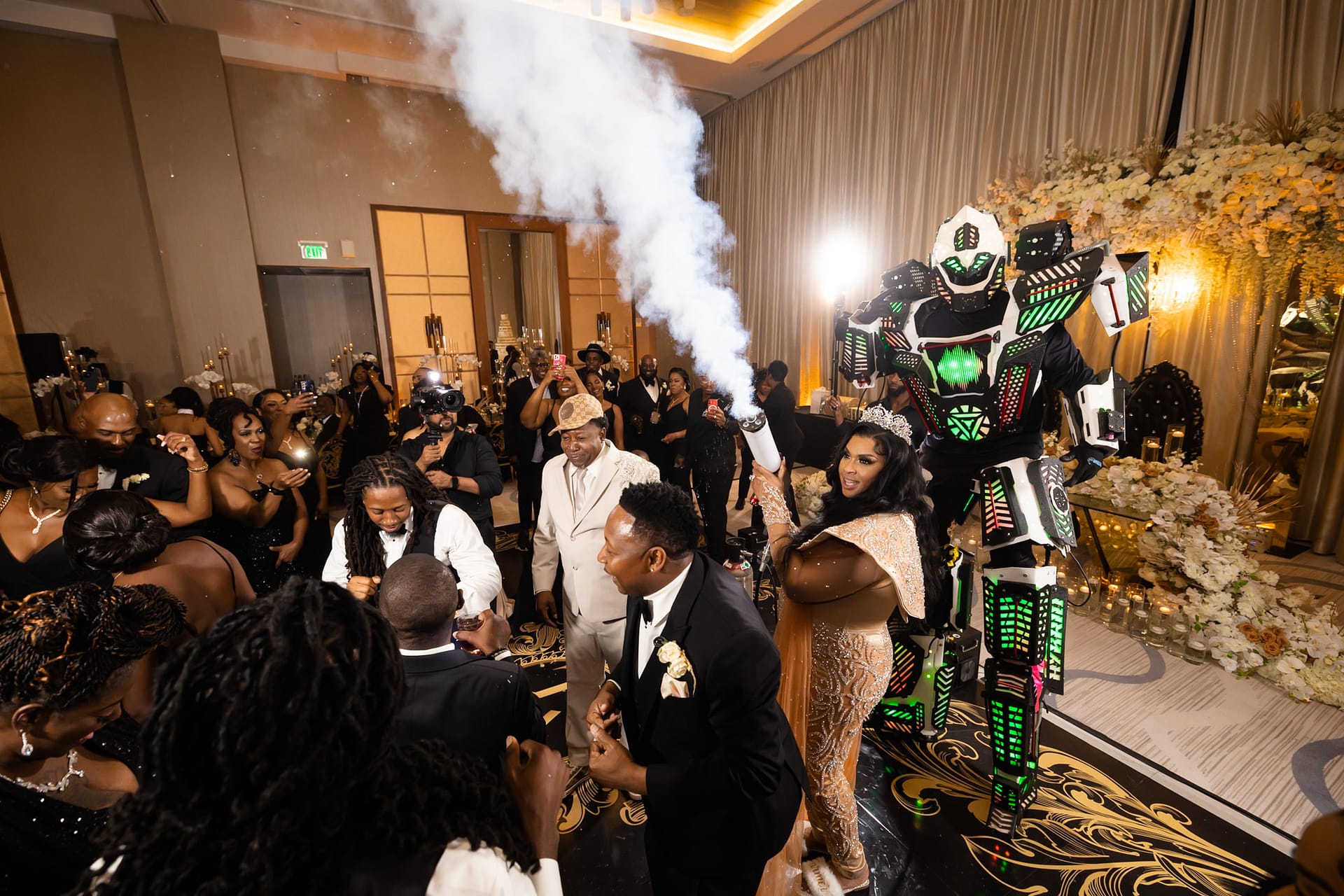 After a multicourse gourmet dinner and emotional first dances—with beautiful melodies provided by their live band—bride and groom set the spirit for the rest of the dance reception with a costume change—fun and sexy designer outfits by Valentino. Guests were then beckoned out to the dance floor by a 9-foot tall "transformer," spectacular lighting effects and cold sparkler machines that were positioned on all four corners of the dance floor. Throughout the remainder of the evening, as guests took a reprieve from dancing, they created souvenir videos for Kelvin and Tiffany at the 360 photo/video booth.
Kelvin and Tiffany incorporated every bell and whistle for this celebration of the century!

The Team
Planner/Designer: Elite Events By Tawanda @eliteeventsbytawanda
Florist: W and W Flowers & Events @wandw_events
Venue: Conrad Hotel at Fort Lauderdale Beach @conradftlbeach
Decorative Items: Angela's Fantasy Creations @angelasfantasycreations
Wedding Cake: Elite Cake Creations @elitecakecreations
Parting Dessert: Earth and Sugar @earthandsugar
Photography: Travis Daniel Photography @travisdanielsphotography
Videography and Amplification: Spotlight Images @spotliteimages
Disc Jockey: DJ Sco @djsco32
Jazz Instrumentals: Gary Palmer Sax @garypalmersax
Harpist: Crystal Sawyer @ladyofharp
Entertainers: Hora Loca Entertainment @horalocaentertainmentinc
Cigar Bar: Cigar Love Show @cigarsloveshow
Groom/Groomsmen T-Shirts: One Stop 4 Printing @onestop4printing
Stationery: Zayla Designs @zaylallc
Master of Ceremonies: Simply Speaking @simplyspkg
Custom Dance Floor/Aisle Runner/Signage: MPE Event Group @mpeeventgroup
360 Video Booth & Cold Sparklers: Epik Entertainment @epikentertainment
Furniture Rentals: Imperial Event Rentals @decoraeventrental