What's a wedding without

flowers?
But why stop with the bridal bouquet, corsages, boutonnieres and decorations? Chef Andy Hyde brings them to the plate in ways far beyond traditional nasturtiums and other edible floral garnishes.
Chef Hyde has cooked around the world with kitchen teams linked to Gordon Ramsay, Thomas Keller, Sven Elverfeld. In 2013, he landed in Naples, Florida, happy to be back in the warm climes he remembers from his childhood in Ghana. 
After working in some of the town's most respected kitchens, he opened his own catering business and, in 2019, a small and intimate restaurant named Hyde N Chic. The restaurant was an immediate success, and Hyde was hailed as the year's hot new chef for his style of cuisine, which blends global culture, healthful cuisine, creative fire and … flowers!
Bloomin' Genius
"I was taught to always utilize edible flowers as a perfume," says Chef Hyde, who trained under celebrity chefs during his globe-trotting formative years. "I do not add flowers onto a dish if it doesn't make sense."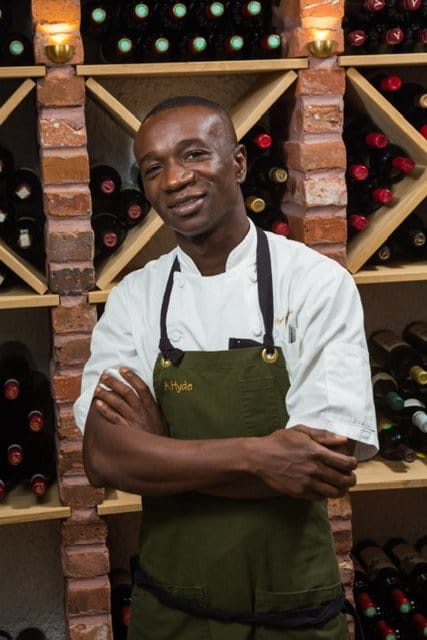 Take, for instance, the truffle foie gras mousse on his small bites wedding menu. The mousse tends to both look and taste earthy. So, Chef Hyde sources the yellow blossom of a cucumber vine—similar to a squash blossom—just as a tiny cucumber begins to emerge. With the mousse chilled to exactly the right temperature, he pipes it into the flower. Looking like bees, the blossoms add a wow factor to color, flavor and novelty appeal.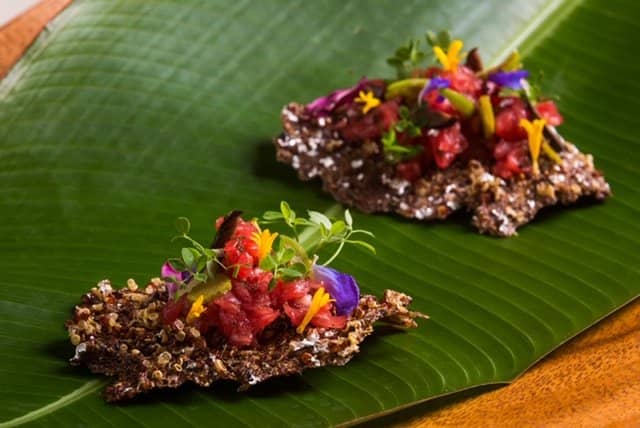 Similarly, he fuses caviar with marigolds to balance salty with sweet and make caviar more palate-friendly to caviar novices. Marigolds and bachelor's buttons add a bright bite to the chef's Beet N Beet Tartare; ephemeral, citrus coriander blooms add festivity to the tuna tartare. 
Tastebud Magic Carpet Ride
The microgreen and flower of citrus lace are one of 10 components in the multilayered, complex dessert Chef Hyde calls Deconstructed Key Lime Pie. The dish also sweetly demonstrates the chef's worldly experience and multicultural profiles. Born in Ghana and raised in Germany and Chicago, with stints in Spain and Los Angeles, he gained a palate with a global flair over his 38 years. In this dessert alone, there's kaffir lime from Southeast Asia, green tangerine from Japan and other tropical climes, and key lime from his latest home.
The dish provides Chef Hyde the opportunity to exercise his flair for drama. He uses liquid nitrogen to freeze the ice cream before guests' eyes and tops it with gold leaf. Glass covered, the dish drops before each guest, then the chef torches each presentation and dusts it with "lime snow" made from liquid nitrogen-frozen lime juice that is finely chopped and sprinkled like snowfall over the dessert. Italy rears its culinary head in the lemon curd panna cotta and key lime gelato-style ice cream. Passionfruit caviar makes another nod to the tropics.
In other courses, he adds a bit of Africa to air-fried artichokes, which are seasoned with Ethiopian berbere, a spice blend similar to smoked paprika, and topped with Japanese-style panko breadcrumbs. The dish creates a novel take on a salad with croutons, and it includes pickled cucumbers, a nod to techniques he learned from friends of his parents.
"Growing up as a young lad, I first tried pickled beets, and I found them disgusting," he remembers. "But I liked the after-flavor. So, I juice the beets and marinate the cucumbers in a house-made pickling liquid for this dish." (Chef Hyde is a master at disguising healthy veggies with global and beguiling touches.) The chef's yam blinis served with caviar hearken to Ukraine but with a twist of tropical yams from his homeland.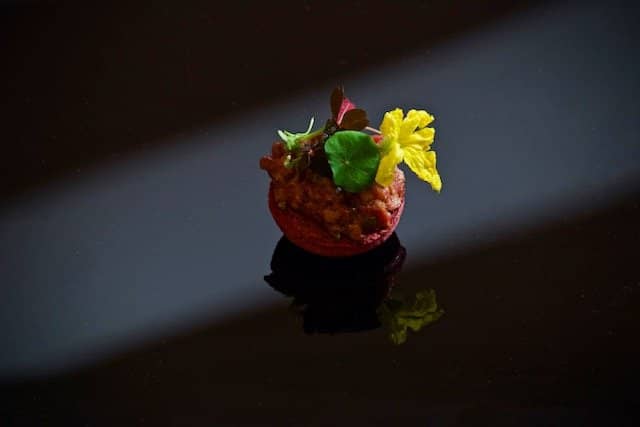 Catering to COVID
Because Chef Hyde's creations are often so labor-intensive and require a degree of presentation showmanship, he has always limited his wedding events to 50 people. Turns out, he was ahead of his time for things to come. 
"I've always been a huge advocate of less is more in life in general," he says. "The days of bigger-is-better might not be over, but it has lessened."
We asked Chef Hyde to create a sample wedding menu to provide ideas and suggestions for your own menu.