When this wedding planner

isn't turning

wedding day visions into stunning realities that include a virtual appearance by Damian Marley or a complete transformation of the ever-popular LAVAN venue, you'll find Melisa Brown hosting intimate events at her Sunrise, Florida, home.
As the founder and wedding planner of Lux Lifestyle Events, the business owner and senior event planner has various vendor contacts she could call to rescue her from kitchen duty for personal get-togethers. Still, cooking is a labor of love for her, whether hosting or not. "I like to eat good," Brown says. "So, I'll make steamed fish. Snapper is one of my favorites because I can't eat shellfish; I'm allergic," she explains. "And I love to do roast fish or fried fish or stewed fish or oxtails. I gotta have the island in there. I'll also have my curry goat, my jerk chicken, my jerk pork or brown stewed pork, and my curry chicken."
Though the kitchen is firmly her territory, there's one person Brown always enjoys sharing it with—her good friend James Lubin of Semaj's One Way Catering and Events. "That's my brother," she says. It's typical for the pair to work in unison on meal preparation for gatherings at Brown's place. "He's like, 'You do this, and I'll do this.' We have drinks. We'll have some fun, play some games with our significant others and his kids, and so on. It's great," she adds.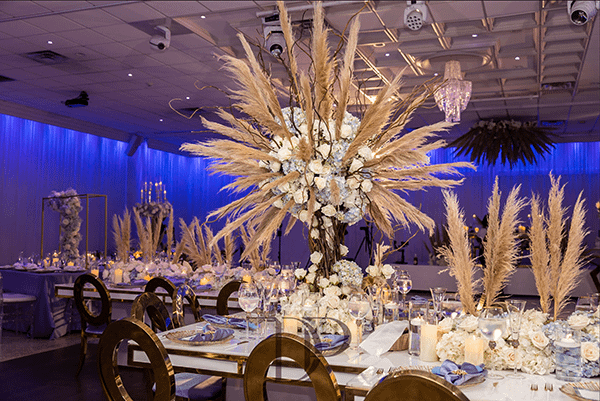 All Things Glam
Having space for entertaining wasn't the only thing that was important to Brown when selecting and designing her open-concept apartment, which includes a gray, emerald green, and gold color palette. She wanted every aspect of it to reflect her. "Oh, I'm bougie," she says with a laugh. Known for lavish events dripping with glamour that speak to the personalities of her clients, it's no surprise that creating a sense of luxury was a priority. "When you come to my home, you see framed art pieces on the wall; you may see a little bit of glam when you see that little sexiness of my culture, like my sofa is super sexy and so are my barstools. But bringing it all together—the art, the luxury, the glam—it's all a part of me," Brown says, her New York accent giving way from time to time to a Jamaican lilt. (Brown was born and raised there until she was 15.)
Some of her favorite pieces come in the form of electronics, such as oversize TVs, an Amazon Alexa and the like. "I love those kinds of things in my home, things that are kind of entertaining as well," says the self-professed film buff, whose favorite genres include action and some science fiction. "I can sit and watch movies for a whole weekend if I don't have a wedding," Brown admits.
The Apple logo frequently appears across much of the technology she uses. After offering her a creative position in the early 2000s, when Brown was a fresh university graduate with a bachelor's degree in computer science and imaging, the company forever endeared itself to her. "I think Apple definitely paved the way for me to get to where I am—those life experiences with them, and [the fact that] I was always around people that were different, unique, had their own style," Brown says.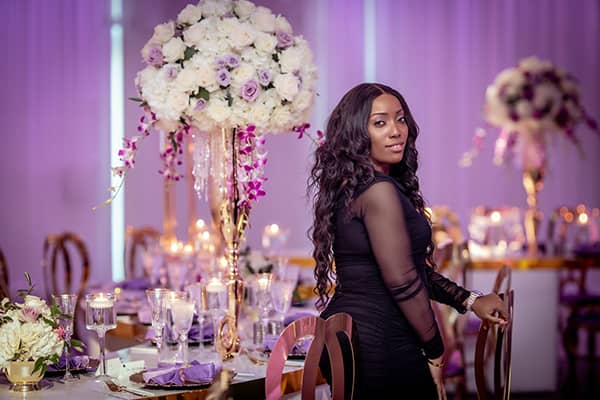 Making Her Mark
After five years with the technology giant and receiving the encouragement of CBS anchor Maurice DuBois, Brown followed in the entrepreneurial footsteps of her parents. Her father is a brewer in Jamaica, and her mother owned two clothing stores. Brown launched a company as an event planner for New York Fashion Week events before founding Lux Lifestyle Events. Since then, business has boomed, and weddings have gone viral, such as one she recently organized for a St. Louis couple that featured the bride in a sultry black, mermaid-style House of Chapple dress with a dramatic ruffled train.
Lux offers comprehensive wedding and event planning services in South Florida, Jamaica, other parts of the Caribbean, and soon Atlanta. There are also intentions to take the company completely global at some point. Brown, who loves to travel and recently vacationed in Italy in honor of her 40th birthday, aspires to open a wedding venue in South Florida as well. The goal is to provide a blank canvas-style space for brides to put their stamp on.
However, she's learned that growth must come at a reasonable pace. "I kind of ran myself almost to the ground, working, doing back-to-back events," she says of 2021. Burnout and health issues caused her to reevaluate the importance of self-care and time with loved ones. "I decided to cut back and have a little bit more me time to get myself back on track. Because, at the end of the day, who's Melisa without Lux or Lux without Melisa? So, I gotta take care of me so Lux can prevail," Brown says. And prevailing it is. The company has put on an average of 24 to 30 events a year and is on track to do the same in 2023.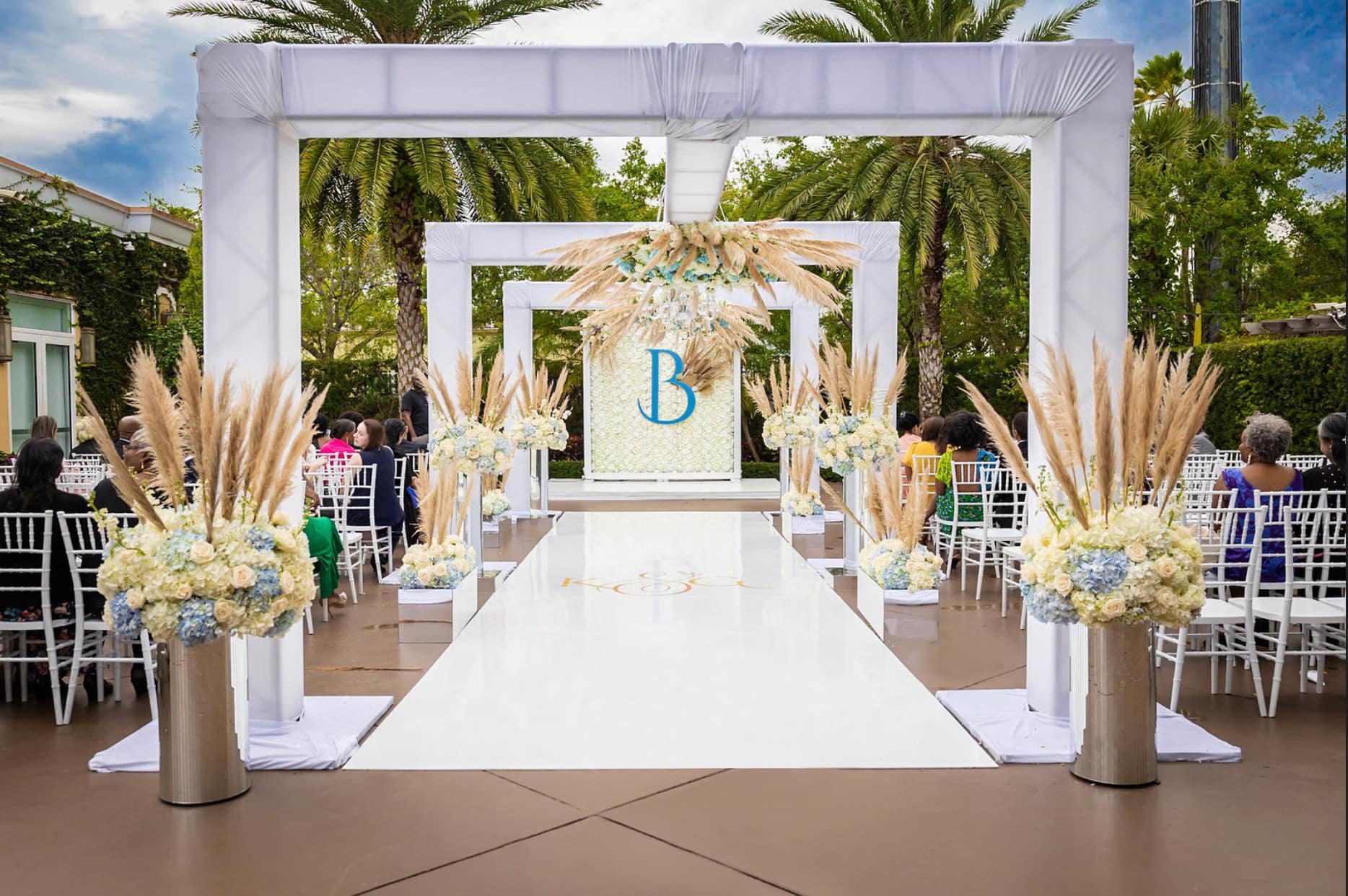 What a Wedding Planner Wants You to Know
For couples still searching for a wedding planner, Brown advises to always have a consultation and ensure the energy feels right between the three of you. Be sure to ask as many questions as possible and know your nonnegotiables for your wedding as well.
"Get to know them. Let them learn a little about you before making a decision. But you definitely need a wedding planner," she states. "A wedding planner is there not just to put an event together but to make the process from start to finish seamless. They're supposed to help you stay on track to the end and make the right decisions when it comes to booking vendors or paying certain bills or agreeing to contracts. I say to my clients all the time, 'Your wedding planner is like your main lawyer. She's your lawyer. She's your psychiatrist. She's your designer. She's your everything in one.'"
Once you've signed on the dotted line, Brown emphasizes the need for continual honesty with your planner. She says to trust them and address concerns right away. The longer you wait, the fewer options available to your planner for course correction. "If you booked a planner and you know that planner has the best results, and they know what they're doing, you've seen their work before you booked them, and you paid the retainer, that deposit—you had faith in their work. So, keep that faith and let them produce for you," she says.