Self-care is one of

the most important things on your wedding checklist.
From custom vows to finding the perfect venue you are most likely doing everything in your control to ensure your wedding is on point. In addition to your wedding checklist, you also have another set of to-dos to conquer before you say "I do," developing a personal wellness plan.  
What's a wellness plan? 
A wellness plan focuses on achieving overall health in all facets of life. It's a multi-dimensional look at your well-being: your mental, physical, spiritual, financial, professional, intellectual and environmental health. Improving your lifestyle before the wedding and continuing those good habits is a smart way to ensure you are always at your best. 
Many women have been taught that the needs of others are more important than our own. Yet, if we neglect ourselves, it's like driving a car but never doing repairs. Cars need regular maintenance. Similarly, people need to care emotionally, physically, mentally and spiritually. These roadblocks to self-care can severely impact a relationship, because a person who neglects themselves comes to the marriage empty instead of ready to give. 
Here are some ideas to help you start taking care of yourself so that you're more capable of bringing your best to your marriage: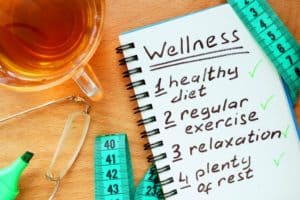 Take an assessment 
When creating a wellness plan, you will need to assess each area of your life to determine what your goals are. Asking yourself a few key questions can help you discover opportunities for an improved quality of life and create goals accordingly. 
Grab your favorite notebook, a glass of water or a cup of herbal tea and answer the questions below. 
Physical health includes your medical conditions, fitness and sleep habits
Are you at a healthy weight? What is your goal weight? 

Do you exercise at least three times per week?

Do you smoke, drink to excess or take drugs? 

Do you get at least 8 hours of sleep at night? 

When was your last physical and well-woman exam? 
Nutritional health includes your diet and eating habits 
How often do you eat processed or fast food? 

How often are fruits, vegetables and whole grains part of your diet? 

Do you drink enough water? 
Mental health includes how you deal with stress and how you manage your emotions
Do you feel overwhelmed by life events?

What emotions do you feel most often and how do you cope with them?

Are you able to let little things go or do you dwell on them?

Have you ever considered or have physically harmed yourself?
Spiritual wellness is less about religion and more about values and beliefs
Do you feel fulfilled in your life?

Can you find comfort and meaning in your life? 

Are you able to spend reflective time alone?
Emotional wellness includes your thoughts, feelings and behaviors 
How is your self-esteem?

Do you have healthy relationships and friendships?
Intellectual wellness includes engaging in creating and mentally stimulating activities
Do you have hobbies? 

Do you find yourself frequently bored?

How are your time management skills? 
Professional health includes work and volunteer activities 
Do you feel satisfied and engaged in your career?

Do you feel appreciated at work and well-compensated?
Financial wellness is your financial stability
Are you living within your budget?

Are you able to build up a nest egg for your future?

Are your student loans and credit card debt manageable?
Environmental wellness includes your personal space, community and the planet
Do you spend enough time outside getting adequate sunshine and air?

Is your home tidy and comfortable?

Do you make a conscious effort to save energy, reuse and recycle?
Now that you have asked and answered these questions, it's time to decide what goals you would like to establish. Keep them achievable and realistic and make both short term and long term goals. 
Here are some examples: 
Physical wellness
See a physician and address any health concerns

Visit a local gym and receive a fitness evaluation 

Find ways to add more walking into the daily routine 
Nutritional wellness
Set up an appointment with a nutritionist 

Choose whole foods rather than prepackaged meals

Drink a glass of water with each meal and between each meal
Mental wellness 
Make time for daily relaxation and reflection 

Practice yoga or meditation to manage stress and anxiety

Arrange a meeting with a therapist or counselor 
Financial wellness
Set up a realistic monthly budget and track spending 

Sit down with a financial planner to prepare for the future

Consider purchasing life and disability insurance 
For your wellness plan to work, you will need to track and measure your goals. Write down your goals and choose which ones you will begin working on first. In the beginning, it's best to pick two or three to prevent yourself from becoming overwhelmed. Once you have achieved these, move on to the next set of goals. Consider using a calendar to create a reasonable timeline to hit your goals.
Be sure to always work in different areas so your life remains balanced. If one area is neglected, it can affect other areas. For example, when your finances are out of balance, it can impact your mental and emotional well-being.
Ready to start living your healthiest, happiest life?