The United States is now the largest wine consuming country in the world. Considering this, it is not difficult to appreciate the growing interest in wine country wedding venues across America.

Brides are crafting new traditions around these spectacular vistas. Imagine having a wedding ceremony between vineyard rows and holding the reception in a wine cave, on a winery patio terrace or across a broad lawn.

Winery and vineyard locations do call for special considerations of season, tourism traffic during festivals, hotel occupancy in high season and weather concerns. However, the beauty and majesty of vineyard locations largely outweigh other scheduling issues. For a truly unique guest and wedding experience, a winery wedding can offer the best of a destination wedding, but with a local setting.

The top six states for wine production in the USA are California, Oregon, Washington, New York, Texas and Virginia. SIGNATURE BRIDE explored several of the top wineries and wine regions in these states that host weddings.

We also explore the top 11 tips on the topic, "Incorporate the Wine Theme." And we explore some Do's and Don'ts for wine country weddings. Obviously, the wine itself plays a major role in the ambiance of the event, so choose the location and wines through a consultative pre-wedding tasting. See SIGNATURE BRIDE's article, Weddings and Wine A Fine Marriage, on how to select wines for your wedding.

California: Napa and Sonoma Counties
Eighty-nine percent of all U.S. wine is made in California. The state boasts the most wineries and AVA's in the nation. Wine regions like Napa Valley, Sonoma Country, Paso Robles, the St. Ynez Valley and Santa Barbara area, and the Lodi Region, all have wineries specializing in weddings.

Naturally, Napa Valley, the state's most famous wine region, comes to mind initially for a wedding location, but the county's Napa Valley Wedding Ordinance restrictions allow only six "grandfathered" wineries to host a wedding. These wineries are Charles Krug Winery, V. Sattui Winery, Merryvale Vineyards, Hans Fahden Vineyards and Beringer Vineyards. However, other Napa wineries like Silverado Vineyards can host rehearsal dinners, bridal showers and other private events on site.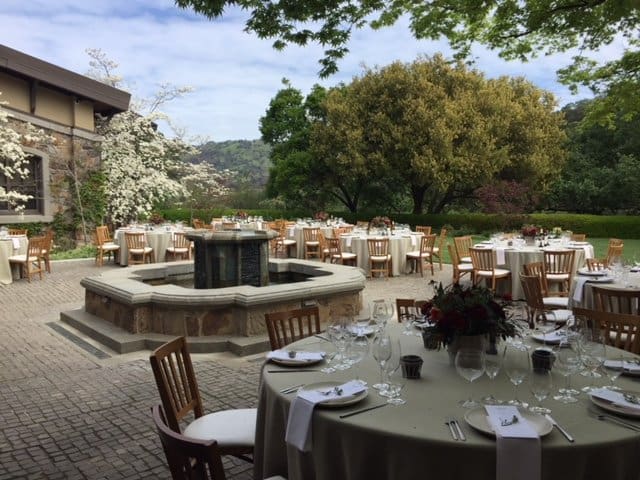 Charles Krug Winery, St. Helena, CA, is the oldest in Napa Valley. The broad lawns, redwood cellar and vineyard vista all create a truly luxurious setting for a wedding. The Charles Krug wines are some of the most awarded in the United States, especially the signature Cabernet Sauvignon. Charles Krug has a wide portfolio of wine choices to create the ultimate food and wine pairing dinner. Located at the end of the Napa Valley Wine Train, your guests might enjoy this outing as part of your destination wedding.

Sonoma County wins the California star for holding the most wedding ceremonies in the state. Standout wineries are BR Cohn, Viansa and Gloria Ferrer.

Viansa Sonoma Winery looks like a love story. The Tuscan feel of the winery, surrounding wetlands, bird preserve and Cypress trees let you understand why Viansa has served as a movie setting and a wedding mecca.
BR Cohn Winery & Olive Oil Company was built 40 years ago with acres of vineyards nestled between the Mayacamas and Sonoma Mountains. They host weddings in all seasons. The founder grew up in the music business and ultimately managed the Doobie Brothers for 45 years as they climbed to rock-n-roll fame. The BR Cohn portfolio of award-winning wines is a centerpiece for many of the weddings taking place in the variety of locations they offer couples.

Gloria Ferrer, famous as a sparkling wine producer, presents Weddings that Sparkle. From the Vista Terrace guests have a stunning view of the Sonoma Carneros region. Ceremonies can take place overlooking the vineyard or in the wine caves. Their wine portfolio is broad and reflects the best grapes like Pinot Noir and Chardonnay that grow so well in the Carneros region of Sonoma County. The Gloria Ferrer Royal Cuveé sparkler would be perfect for your wedding toast.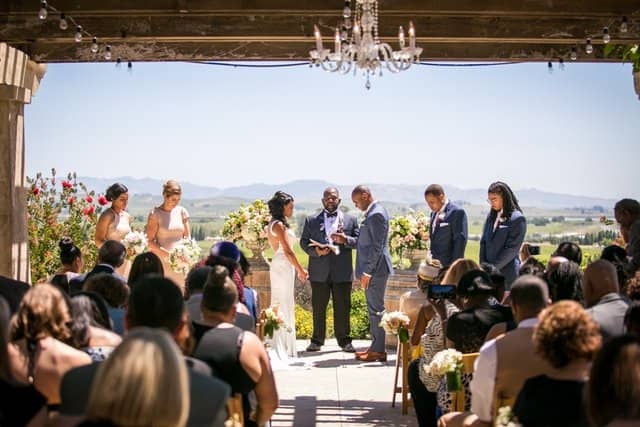 In Paso Robles, CA, Eberle Winery features a Wild Boar Room located in the Eberle Winery Caves, which provides a unique ambiance for elegant candlelight dinners and receptions. The Vineyard Deck is a great spot for capturing a sunset over the Coastal Mountain range and sweeping views of the vineyards.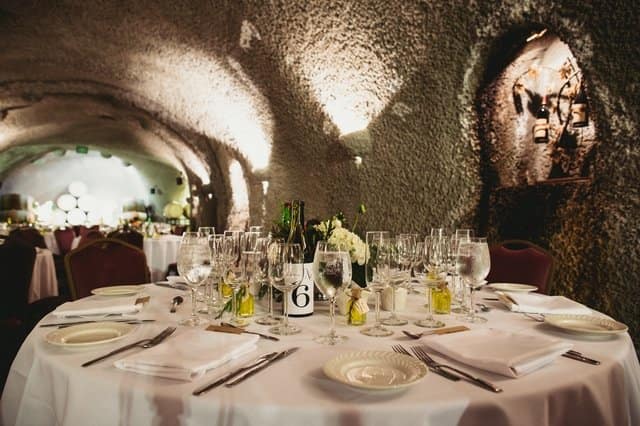 Texas
The Lone Star state ranks fifth in wine production, but first in the hearts many wine lovers. Texas lends its own cowboy traditions to the mix. The Texas Hill Country near Austin claims the most wine tourists, but venues near Houston, Dallas and the High Plains AVA near Lubbock also offer scenic venues. Duchman Family Winery and Spicewood Vineyards near Austin, and Messina Hof near Bryan, Texas (also with Fredericksburg and Grapevine locations) are particularly sought-after wineries for weddings.

Duchman Family Winery, Driftwood, Texas, located in the Texas Hill Country near Austin, has both a majestic seated vineyard location for ceremonies, as well as a spacious Italian villa-style event center. It is famous for its Italian varietal wines and ivy-covered winery that mimic the Tuscan hillside — without the price tag.

Spicewood Vineyards in Spicewood, Texas, located in the Texas Hill Country, is 45 minutes from Austin. This is a classic Texas gentleman's ranch, but with amenities for an elegant wedding. The Spicewood wine portfolio includes white, red, rosé and sweet wines to offer a variety to your guests.

Messina Hof Winery and Resort has three Texas locations, including Bryan, Fredericksburg and Grapevine. Each location offers multiple indoor and outdoor venue options for the perfect wedding. Messina Hof employs a designer events team to create custom packages for small and large events. The venues include the gazebo, rose garden,  vineyard, a lakeside deck, gallery, cellar room, balcony and the vineyard room.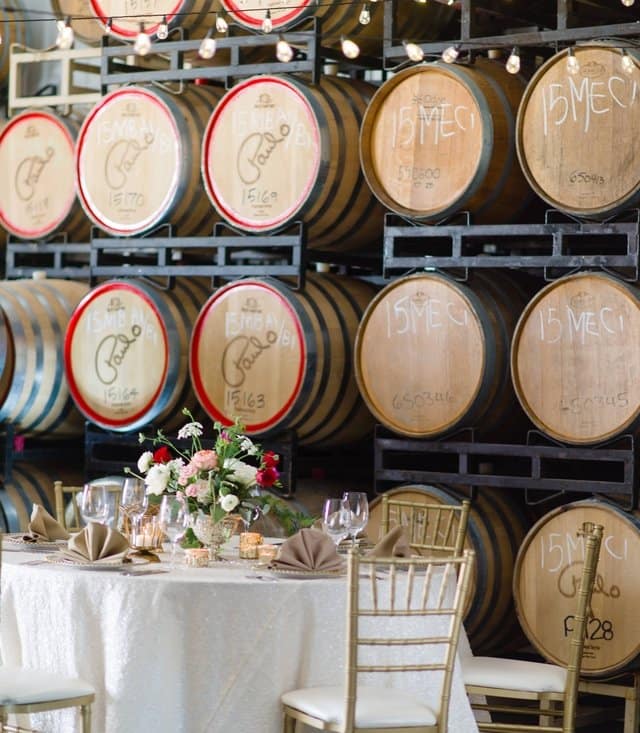 Oregon
Oregon's Willamette Valley is famous for Pinot Noir and wedding adventures. Notable wineries that host weddings include Zenith and Maysara. Even wineries such as Stoller Family Estate, winner of USA Today's vote for "Best Tasting Room," which do not host weddings, do offer pre-wedding gatherings.

Maysara Winery in the McMinnville foothills features one of the largest indoor and outdoor settings in Oregon Wine Country. The Tuscan-inspired stone and wood winery has a rustic sophistication and is surrounded by 532 acres of the Momtazi Vineyard. Both intimate and grand weddings can experience the grandeur of this location.

New York
New York has two well-known wine country AVA's for the discerning bride. The North Fork AVA on Long Island and the Finger Lakes region in upstate New York are popular sites for many weddings.

In the Finger Lakes region, two wineries stand out. Heron Hill Winery features an exclusive caterer, Nolan's on Canandaigua Lake, with a landscape that is spectacular!

The other site is Buttonwood Grove Winery, winner of the 2017 Governor's Cup, "Best Wine in New York State." Couples frequently choose this winery due to its panoramic view of Cayuga Lake. The rustic casual feel and the beautiful pond-side ceremony site attract many couples. The on-site cabins are a big attraction for a destination wedding.
The Long Island North Fork AVA vista has the look of the Hamptons without the price tag. Convenient for a New York City arrival, many Long Island wineries offer wedding venues accommodating up to 250 guests. Notable wedding locations with highly rated wine portfolios are: Macari Vineyards, Mattituck & Cutchogue, NY; Wölffer Estate Vineyards, Sagaponack, NY; and Bedell Cellars, Cutchogue, NY.

Virginia
Virginia is for wine lovers. A wide range of wine regions across the state from Shenandoah Mountains to Chesapeake Bay to Thomas Jefferson's Charlottesville area often host weddings with a Southern flair.

Pippin Hill Farm & Vineyards is located just outside of Charlottesville and near the Blue Ridge Mountains. This destination has been covered in Harper's Bazaar as one of the best garden venues in the country. executive Chef Ian Rynecki offers couples traditional, customized menus based on the abundant locally produced vegetables, fruits meats and cheese of the region.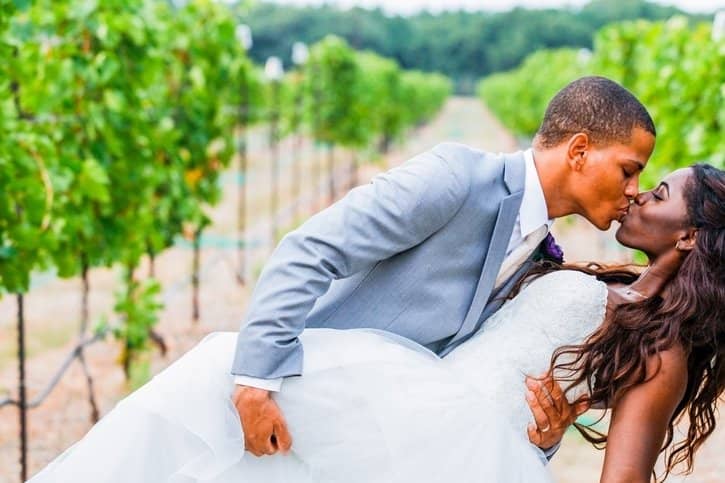 Tips for Incorporating the Wine and Vineyard Theme

1. New Unity Tradition — A Wine Blending vs. Unity Candle has become a new tradition. Bride and Groom each pour a wine varietal to make the perfect blend (into a decanter, of course).
2. Barrels — Barrel top, high tables are often festive. Barrel flower arrangements made of barrel rings shaped like hearts can adorn caves and tables and serve as aisle markers.
3. Corks — Corks with a slit at the top can hold place cards and be arranged into signs such as "Bar" or "Gift Table," or worked into flower arrangements.
4. Greenery and Herbs — Wineries often plant mustard, lavender and other herbs around the vineyards. Take advantage of these natural floras and utilize them in bouquets, table arrangements and place settings.
5. Grapes — Grapes are everywhere and should have a place in your wedding as a cake topper or featured in table arrangements.
6. Empty Wine Bottles — Empty bottles are perfect for table markers and for posting seating charts. Number empty bottles representing your future anniversaries into which guest can place advice and well-wishes.
[Photo:Buttonwood Grove Winery Number bottle] Photo Credit: Rick Bacmanski
7. Wine Gifts for Wedding Guests — Many wineries can make a special label for their wines inscribed with your name and wedding date. Single bottle wood boxes could also be customized with your name. Don't forget to purchase an extra five bottles to open on your first, second, fifth, tenth and fifteenth anniversary.
8. Welcome Bags for Wedding Guests — The thoughtful couple will make sure the selected base hotel presents a gift bag to guests. Include necessities like a wine country map, water for hydration, sunscreen, a list of things to do and see, and wine country snacks.
9. Hot Air Balloons and Pyrotechnics Finale — Want to make a huge parting impression? Why don't you escape at the end of the reception in a hot air balloon or set off a light show?
10. A Wine-Tasting Dinner — Plan to place several wine glasses per place setting at your winery reception. Guests appreciate trying a sampling of winery's collection. Have a wine and food pairing reception menu matching each course. Note: sampling wine does require planning for a little more wine per person. See guidelines for ordering wine at Weddings and Wine A Fine Marriage.
11. Toasting with Sparkling Wines — Incorporate the winery's sparkling wines for your toast. (For appropriate toasting etiquette see: Weddings and Wine A Fine Marriage. If the winery does not produce a sparkling wine, ask for recommendations.

Photo courtesy of George Street Photo & Video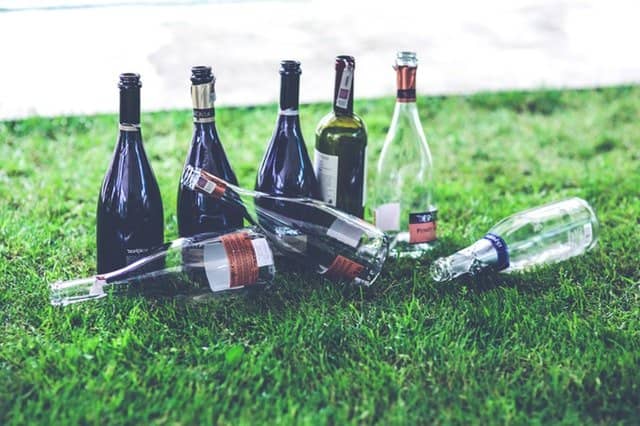 Do's and Don'ts for a Winery/Vineyard Wedding

Do's
1. Do ask the winery about any restrictions for the venue: hours for outside receptions (noise might be an issue in the countryside), traffic and parking guidelines, and fireworks restrictions.
2. Do ask about any restrictions on bringing in other wine and food other than the recommended caterers.
3. Do ask if they have any preferred caterers, wedding planners, florists, transportation, bakeries, hair/makeup designers, entertainment (bands, DJ's, etc.), photography, lodging, house rentals, officiants and videographers. The wineries often suggest a list of their preferred regional vendors.
4. Do enjoy the spectacular setting you have chosen!

Don'ts
1. Don't forget to ask if the winery/vineyard only allows weddings after the tasting rooms are closed.
2. Don't bring in banned wine or food.
3. Don't expect that all wineries can host weddings.