While your wedding may

be the most anticipated and monumental day of your life, your honeymoon will allow you to finally unwind and bask in your partner's love, sans stress.
And though foreign, far-flung destinations for honeymoons likely sound enticing, we've uncovered 13 romantic U.S. honeymoon destinations for all types of lovebirds, whether you're looking to bask on a beach, enjoy riveting adventure or unwind in a cozy bed with your beloved. Pack your sunscreen and a romance novel, and remember: no passport is required!

Mesa, Arizona
If a vast desert dotted with cacti and wildflowers sounds romantic, consider a honeymoon to Mesa, the nature-centric city adjacent to Phoenix. Providing a literal breath of fresh air, Mesa has been rated one of the best vacation spots for outdoorsy couples in 2022. Imagine escaping the stresses of city life while enjoying endless adventures on red rock canyon trails and exploring fabled former mining towns.
If you're looking for rustic romantic activities on your honeymoon, consider a sunset horseback ride or kayaking adventure at Saguaro Lake, a reservoir majestically surrounded by harsh desert. For a wildly romantic and private experience, we recommend staying in converted vintage airstreams at The Cozy Peach, nestled in the 300-acre family-run Schnepf Farms.

Los Angeles
The City of Angels is more than where aspiring Hollywood A-listers move in hopes of fame and fortune. Specific neighborhoods in Los Angeles can provide some of the best couple's vacations in the USA, especially for a honeymoon. Dressing up and meandering the picture-perfect streets of Beverly Hills while window-shopping and celebrity-spotting is a glamorous way to enjoy a balmy LA day while honeymooning. Or take a hike to the Hollywood sign and snap a selfie with your spouse.
Of course, LA is also home to many high-end hotels that epitomize privacy and romance–perfect for honeymooning. The Beverly Wilshire, A Four Seasons Hotel symbolizes old-school opulence, with crystal chandeliers donning hallways, a rooftop spa and an address adjacent to the famed Rodeo Drive. Check in here for a lavish honeymoon getaway. And yes, wearing only your plush hotel robe and sipping champagne from the bottle works in this kind of setting—heck, you'll feel like you're in a 1940s romance movie. Couples looking for world-class dining, art museums and that intoxicating metropolitan pace should check out the posh Freehand Downtown LA Hotel. The dimly lit roof is incredibly romantic for evening drinks and clinking glasses with your love above the city's sparking lights.

Virginia
Virginia is literally for lovers, making it another romantic getaway in the USA that's phenomenal for honeymoons. And due to its diverse topography, proximity to Washington, D.C., and many luxurious yet natural escapes, the state also happens to be one of the best vacation spots for couples in 2022.
With more than 300 beautiful wineries spread across the state, from the foothills of the mountains to the rolling hills of central Virginia and the coastal regions, Virginia is an ideal honeymoon destination for wine lovers. The state's award-winning wineries capture the attention of would-be Tuscany and Napa honeymooners, with delicious wines that stand up to those other famous regions.

Kauai, Hawaii
If Hawaii sounds like the dream topical USA vacation but you want to enjoy more than resorts and spas on your honeymoon, we suggest exploring the island of Kauai. Endearingly nicknamed "The Garden Island" due to its abundance of colorful vegetation, Kauai beckons with adventure around every turn. For a honeymoon, we propose a stay at the romantic Ko'a Kea Hotel & Resort. The boutique hotel is for couples who crave romance and seclusion. The property sits in the heart of Kauai's sunny south shore, nuzzled along the soft white sands of Poipu Beach. With 121 guest rooms, the property is true to authentic Hawaiian décor but with a modern twist.
Rent a car and explore all of Kauai's natural elements: Waimea Canyon, nicknamed the Grand Canyon of the Pacific; the jutting cliffs of Nāpali Coast State Wilderness Park; and the majestic Hanakapiai Falls.

Maui, Hawaii
The second-largest Hawaiian island, Maui is famed for its white sand beaches, breaching whales and sunset cruises. It is also a no-brainer as a romantic yet accessible honeymoon destination. Book a stay for two at the Fairmont Kea Lani, with lush tropical gardens, an adults-only pool area and a private beach surrounded by turquoise waters that sets the stage for eye-popping sunsets every evening. If you and your partner would like to commemorate your matrimony physically, consider planting a native tree in honor of your love with Maui's Skyline conservationists.

Lanai, Hawaii
If you're looking for even more exclusivity on your Hawaiian honeymoon, catch a 20-minute flight from Maui to neighboring Lanai, rightly dubbed Hawaii's last unspoiled island. Lanai is an exotic, private paradise where opportunities for adventure and relaxation abound. Four Seasons Resort Lanai is the optimal honeymoon escape, with lagoon-style pools hidden amongst fluorescent tropical gardens and sunrise yoga on the pristine Hulopo'e Bay Beach. Service here is impeccable, as is the array of on-site restaurants, including Nobu.
Getting off the property in Lanai invites many exploration opportunities for adventurous couples, as the island has resisted mass tourism. Instead of overcrowded beaches, opt to hike one of the winding, mountainous trails or catch a sunset from one of the secluded beaches.

New York City
If you and your sweetheart crave pulsating, nonstop action, you'll love escaping to New York City for your honeymoon. The city that never sleeps will keep you both on your toes with an array of culture, art and people-watching right at your fingertips. You can pack your schedule with Broadway shows, museum visits and some of the best restaurants in the world, such as two Michelin-starred The Modern and Sushi Lab, the intimate sushi bar at The Sanctuary Hotel in Midtown.
However, should you rather watch the city pass by from the comfort of your lover's arms, book a stay at a posh hotel in Midtown Manhattan. We love the boutique Archer Hotel near Grand Central Station and The Arlo NoMad, with glass windows in rooms overlooking the city's chaotic energy below.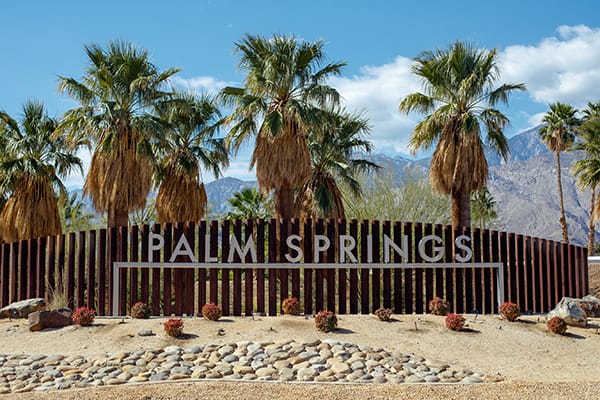 Palm Springs
Palm Springs is truly an oasis in the Californian desert. Sheltered by mountains on three sides, this town is home to trendy boutiques and restaurants, forests of cacti and those cool vibes authentic only to SoCal. If you're looking to relax and bask in the desert sun, consider a stay at The Omni Rancho Las Palmas Resort and Spa, optimal for honeymoons with a 20,000-square-foot health spa, private pools and chic décor adorning all rooms. In contrast, the Saguaro Hotel, with a buzzy pool scene and colorful cocktails, is the perfect base for honeymooners hoping to fill their days with adventure and sunshine (and with 350 days of sun a year in Palm Springs, we're confident you'll get plenty of that).
If you want to explore the local landscape, consider a jeep tour to the San Andreas Fault or work up a sweat on a bike and hike in Indian Canyon. And for some amazing meals, make reservations at Acqua California Bistro, Eight4Nine and brunch at Wilma & Frieda.

Boston
Boston's all-season New England charm is undeniable, making it the perfect choice for couples looking to nerd out together on their honeymoon. Strolling around the cobblestone streets of Beantown provides a perpetual history lesson, and the surplus of arts and culture activities fill any honeymoon itinerary. Be sure to take a tour along the Black Heritage Trail, which explores the history of the African-American community in 19th_century Boston. Learn about the Underground Railroad, the abolition movement and the early struggles for civil rights. Are you into street art? Be sure to check out the Roxbury neighborhood. Roxbury is where Dr. Martin Luther King Jr. ministered at the Twelfth Baptist Church, where Malcolm X lived with his sister and where jazz musicians defined that genre in Boston. Today, Roxbury is "a lab for artistic innovation," an outdoor museum that has brought the city's greatest artists in the graffiti and street art genre to the area.
Consider a honeymoon stay in the idyllic Boston Commons at the sophisticated and boutique Whitney Hotel or The Liberty Hotel, Boston's iconic jail-turned-hotel. And don't forget to wander the meandering streets of the city's North End for a candlelit Italian dinner—you'll momentarily forget you're not in the Mediterranean.

Miami
Miami may have a reputation as a party town, but if you get out of South Beach, you and your lover will find pockets of relief from the action ideal for a honeymoon. In fact, one of our favorite honeymoon hotels is the luxurious Biltmore Hotel in Coral Gables. Elegant and refined, this 95-year hotel is a National Historic Landmark and boasts one of the largest swimming pools in the continental USA.
If you're looking for unparalleled glamour on your honeymoon, book a few nights at Acqualina Resort, perched on the white sand beaches of southern Miami, where you can spend days lazily sipping piña coladas poolside and basking in the sun.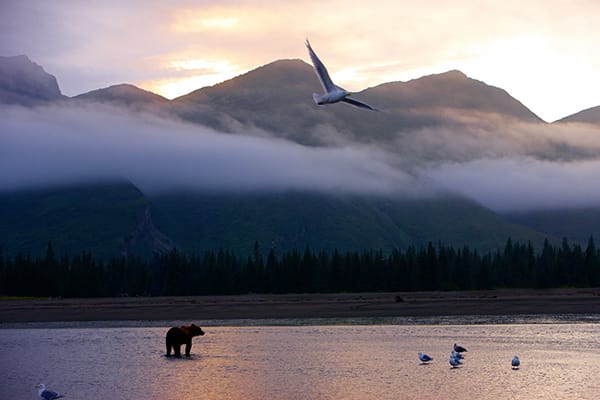 Alaska
Nothing bodes intimacy on a honeymoon quite like being disconnected from the rest of the world. And Alaska, known endearingly as "The Last Frontier," is an optimal romantic getaway in the USA for intrepid couples looking to enjoy nature.
One wildly romantic way to explore Alaska on your honeymoon is by water. UnCruise, a small ship experience that contradicts typical cruising stereotypes, is one of the most romantic ways couples can explore the more hidden gems of this beautiful state. With activities like paddling and hiking, witnessing calving glaciers and whale watching, you'll have plenty of time to explore Alaska's remote inlets hand in hand with your partner without real-world distractions.

Charleston
It's no secret that coastal Charleston, South Carolina, is captivating. With gorgeous architecture, amazing food, vibrant neighborhoods and Southern hospitality, Charleston has been named one of the best vacation spots for couples in 2022. If you're craving a bit of adventure and sunshine with your significant other, consider spending time exploring the marshlands of the Lowcountry via kayak or have a romantic picnic and dreamy stroll through the many public gardens. Book a history tour with Gullah Tours, browse through the many art galleries in town, take a horse-drawn carriage sightseeing tour or a walking tour, and visit High Wire Distilling, Charleston's first distillery since Prohibition. For some light bites and citrus-inspired cocktails, the Citrus Club in The Dewberry Hotel is a must.

San Francisco
San Francisco is an ideal destination for sophisticated newlyweds who relish art, shopping, fine dining, city life and spectacular scenery. If you're looking to be in the center of the action and appreciate boutique hotel experiences, consider checking in to Hotel Zeppelin, an urban retreat in Union Square that is walkable to Chinatown, Union Square and other tourist hotspots. Of course, if the two of you want to escape the cosmopolitan buzz for a bit, you can rent a car and drive through the diverse landscapes of the nearby Napa and Sonoma valleys for the day.