SIGNATURE BRIDE sits down

with top fashion couture bridal designers to get a glimpse into the creative mindset. This month, we had the opportunity to speak with British couture bridal designer Cynthia Grafton-Holt.
Born in the West Midlands region of England, Grafton-Holt fondly remembers how Saturday night was party night, where the women would dress like they hadn't a care in the world. They were the true masters of innovation and fashion on a budget, as they couldn't afford designer labels. Grafton-Holt loved their inventiveness and how they reworked their gowns to make their spending go further.
A member of the Guild of Master Craftsmen, Grafton-Holt studied the art of bespoke tailoring at the London College of Fashion before going on to work for brands such as Mulberry, Alexander McQueen, Pronovias, Ralph & Russo, Suzanne Neville, Emilia Wickstead, Giles Deacon, Roland Mouret, Victoria Beckham, Karen Millen, Matthew Williamson and Nicole Farhi. She has also designed for celebrities, including Jennifer Lopez, Reese Witherspoon, Rosamund Pike and Linda Evangelista, to name a few.
SIGNATURE BRIDE: You've worked for many a high-end bridal designer and have handcrafted bespoke gowns for high-profile clients. What is it about the world of custom that speaks to you?
CYNTHIA GRAFTON-HOLT: I watched passionately, growing up, the dressmakers I was surrounded by. How they would tear pages from magazines and newspapers from which to inspire their next design. But even from an early age, I observed a kind of roughness to their work. It lacked something. And so, when I began studying fashion, my goal was to work at the top end. I wanted to learn the skills of the high couturier. I was madly in love with their ability and their skilled hands to strip a fabric back to its core or even to tear it to pieces and refashion its life to match the vision of the designer. Today, that art is known as deconstruction/reconstruction, but which lacks a certain finesse in the reconstruction process.
SB: Define your style.
CGH: Parisian chic, timeless, contemporary and elegant.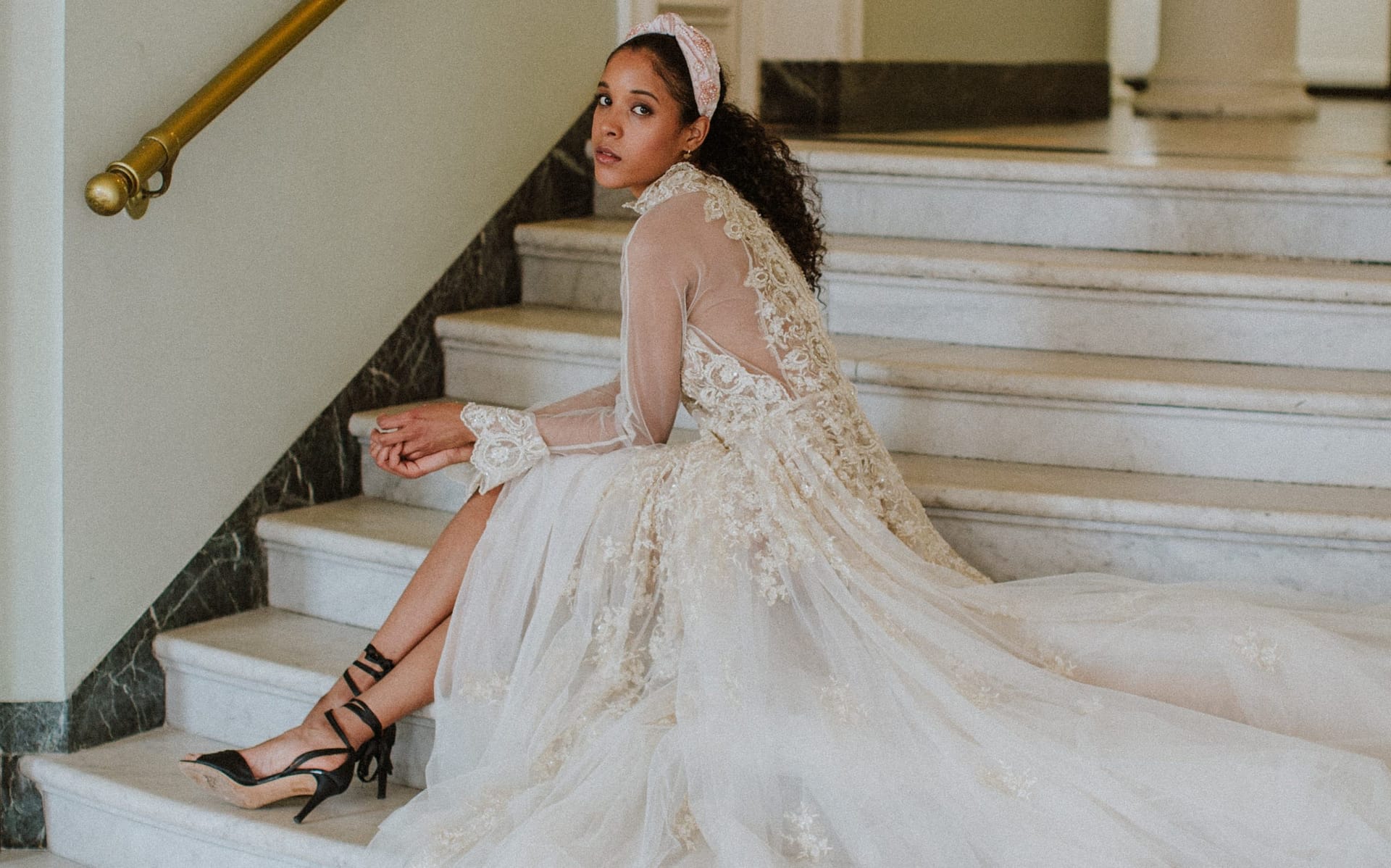 SB: Who is/are your mentor(s)?
CGH: My mum. Though she is no longer here, her gentle, quiet spirit drives me to pursue my dream and to not consider no the only answer. She often said, "Where there is a will, there is a way."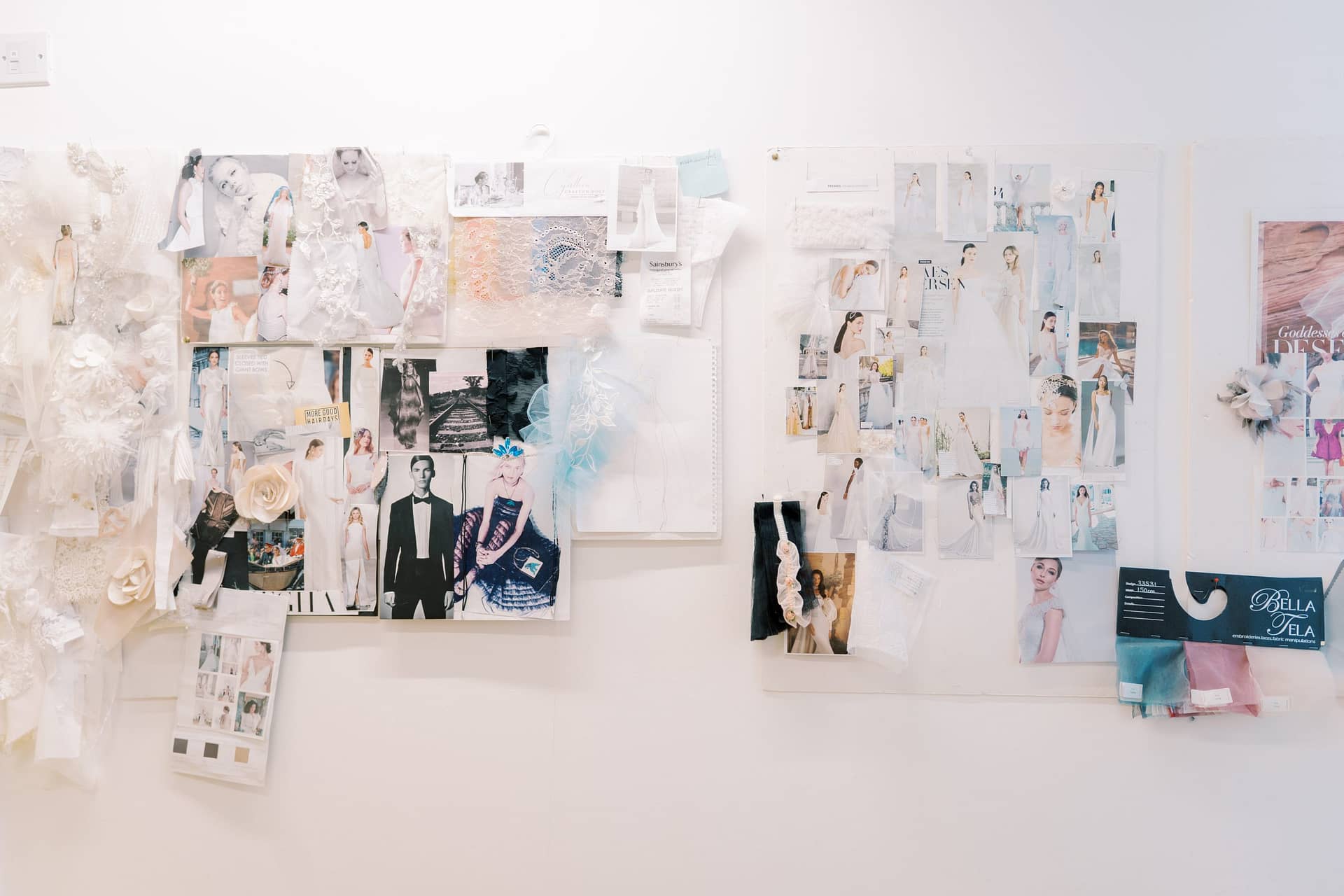 SB: What (or who) influences your designs?
CGH: The work and talent of the late Alexander McQueen, with whom I worked up until his death. I will forever be in awe of designers like Cristóbal Balenciaga, Azzedine Alaïa, iconic old-Hollywood styles of the 1950s and '60s. The movement and cut of Marilyn Monroe's pleated chiffon dress, Audrey Hepburn's classic style. Also, of late, artists such as Maria Grazia Chiuri for her boldness and vision.
SB: Where do you look for creative inspiration?
CGH: Everywhere! I am captivated by forms of nature that force me to stop and look. It could be the crystallized droplets of moisture around a leaf on the ground in winter to an unexpected cluster of wildflowers growing in the most arid of places. Hence, surface detailing, beadwork and embroidery are often inspired by sources found in nature.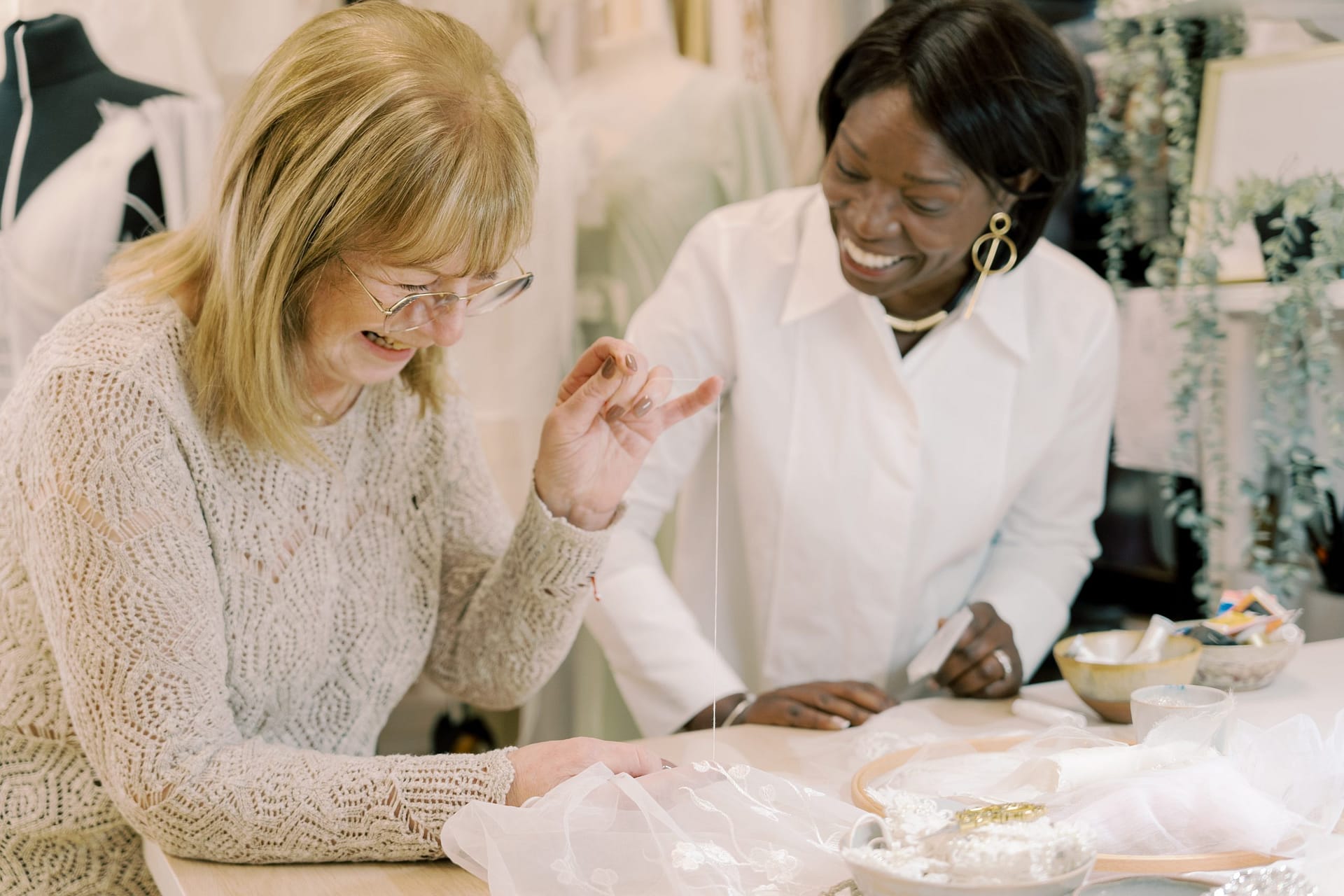 SB: What is your favorite part of the design process?
CGH: Oh, by far, the design and development process. It engages and focuses the mind toward finding solutions.
SB: Do you have a favorite fabric(s) you love to work with? If so, what is it and why?
CGH: I love working in silk. From the finest chiffons and organzas to the brocades, duchesses, taffetas and bouclés. The drape, the handle and the sumptuousness of a beautifully woven silk is the equivalent of 'Diamonds on the hand' as YSL would say.
SB: If you were not a fashion designer, what would you want to be?
CGH: A surgeon. Biology was my favorite subject, and I am still fascinated with it today. The precision with which they work and what they can do, especially today with advances in science and medicine, it is quite awe-inspiring.
SB: What makes your dresses stand out from other bespoke dresses?
CGH: A Cynthia Grafton-Holt bespoke gown stands out because of its quality and attention to the details. While in school, my tutor at the time worked for the French couture house Dior. Unbeknown to me at the time, he saw something in my work and invested in me. He accepted nothing less than perfection and the highest standards of quality from my work. I do not compare my work to anyone else's and most certainly not to others whose work I see on social media, and which makes me want to cry. I just hope that to the discerning eye, my work speaks for itself, which is why I invite brides to visit the studio and atelier to see where the magic happens; it is a whole different level of professionalism which meets the standards and expectations of any potential client.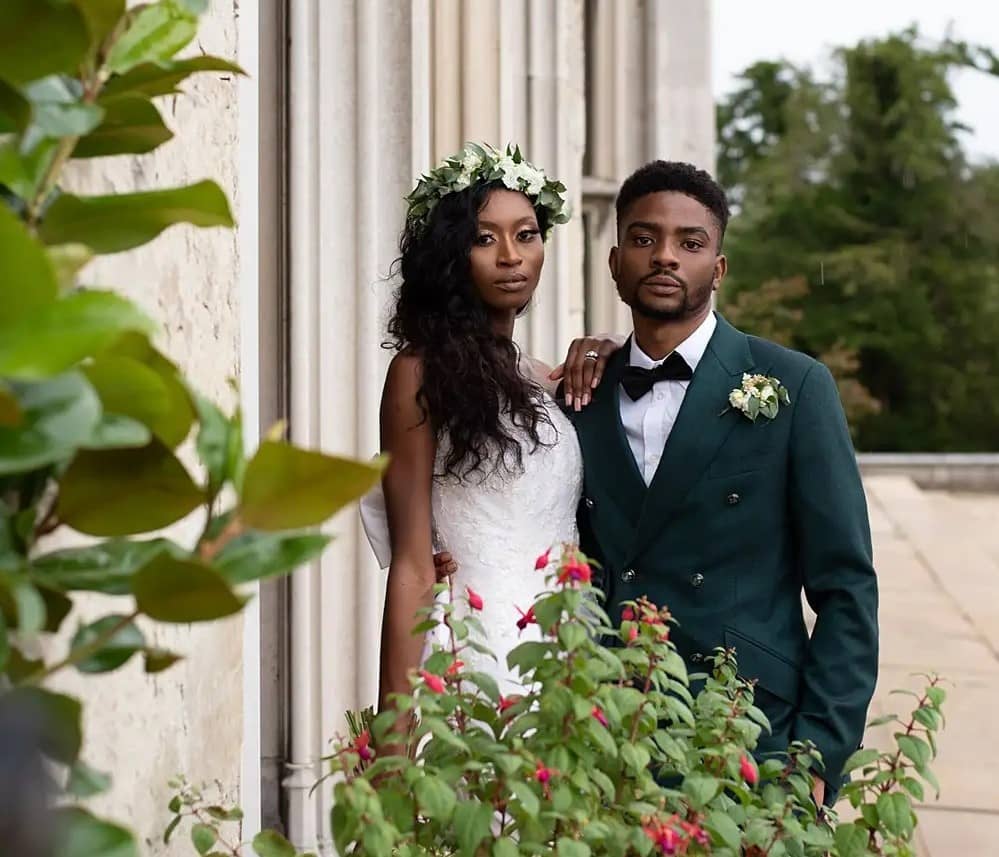 SB: Tell us about your beautiful robe line?
CGH: The design for the robe came from the idea of the bridal preparation process and those early morning shots captured with her bridal party. At the time, there was little or no choice in the bridal lingerie market other than the typical satin robes. So, I created the Amelia robe for the decadent bride who wanted more!
The Amelia robe is sassy yet extremely classy. She is created for the bride who extends the wedding preparation to the honeymoon and beyond—even to the birth of her first child and the photo shoot she plans to celebrate in style. Amelia is the perfect gown for boudoir photography—revealing a little or a lot. You can wear it how you want to.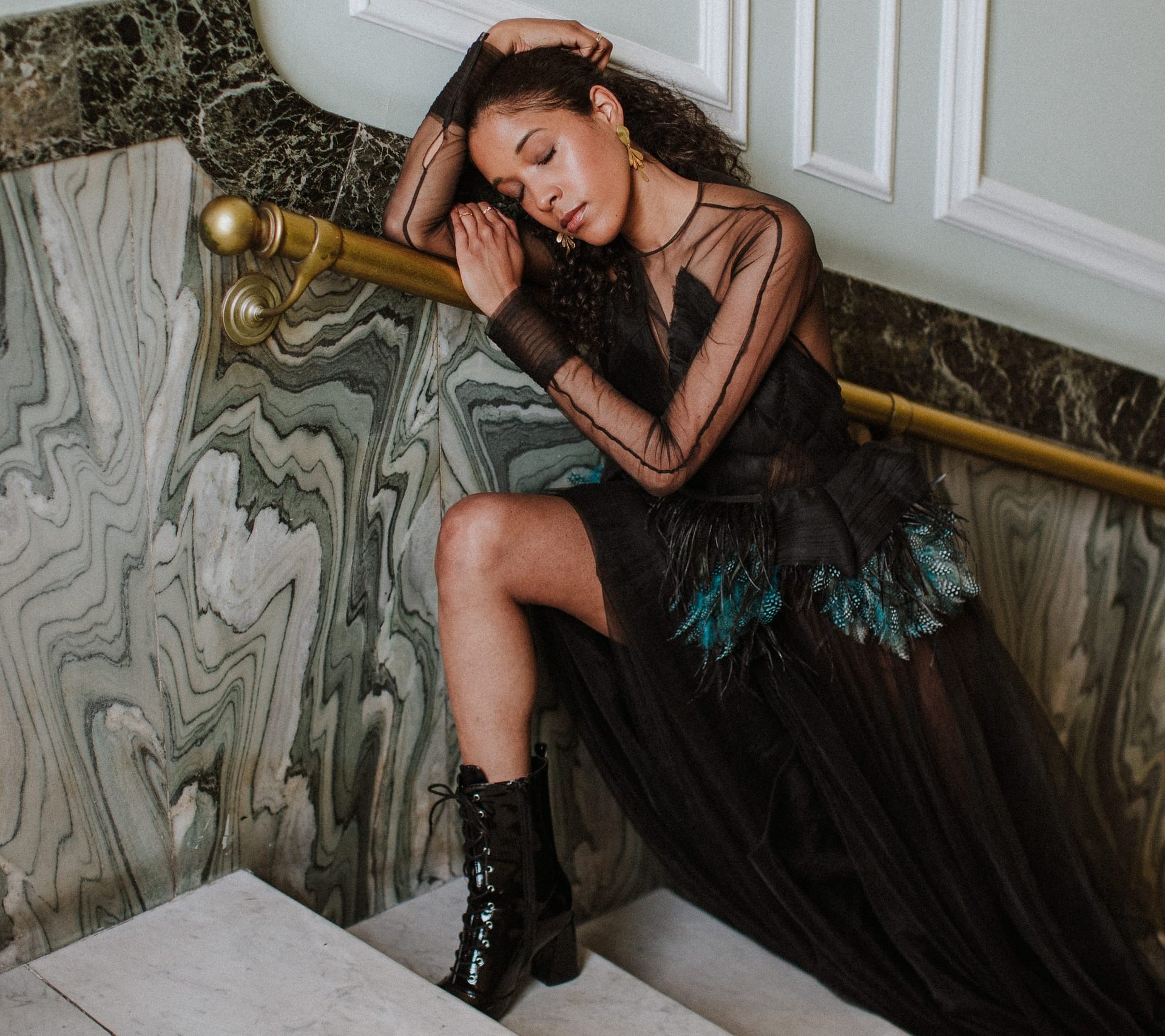 SB: Any other accessories available?
CGH: We stock a range of one-off pieces from local designers whose work we love! The collection ranges in style from garters, gloves, hairpieces and tiaras; all pieces are on show in the atelier so we can provide our brides with a one-stop shopping experience while introducing them to the work of other craft makers (like us) whose work they might never discover.
SB: What do you consider to be the signature design element(s) of a Cynthia Grafton-Holt dress?
CGH: The fit of a Cynthia Grafton-Holt gown is everything, just ask any of our brides. We have a dedicated page on Instagram where our brides will answer any of your questions about the experience of working with us and wearing a bespoke wedding dress designed to fit them. The second most important signature element is styling and details. This is unique to everyone. A detail that is a wow factor for one bride may be a deal breaker with another, and that is what makes each dress unique by itself.
SB: Describe the Cynthia Grafton-Holt bride.
CGH: Carefree and confident about who she is and what she wants. She buys and enjoys designer labels that appeal to her, but she is not caged in by labels. She decides how and where to spend her money. She values good service, genuine attention and how you make her feel. She is not afraid to go with her heart and embrace her own body. I never seek to minimize someone else's dreams. I see my role as someone who is there to help them to achieve it and to elevate it by using my unique skills, knowledge and experience so that my client is overjoyed at the ease of the process and the value of having worked with me to realize her goals.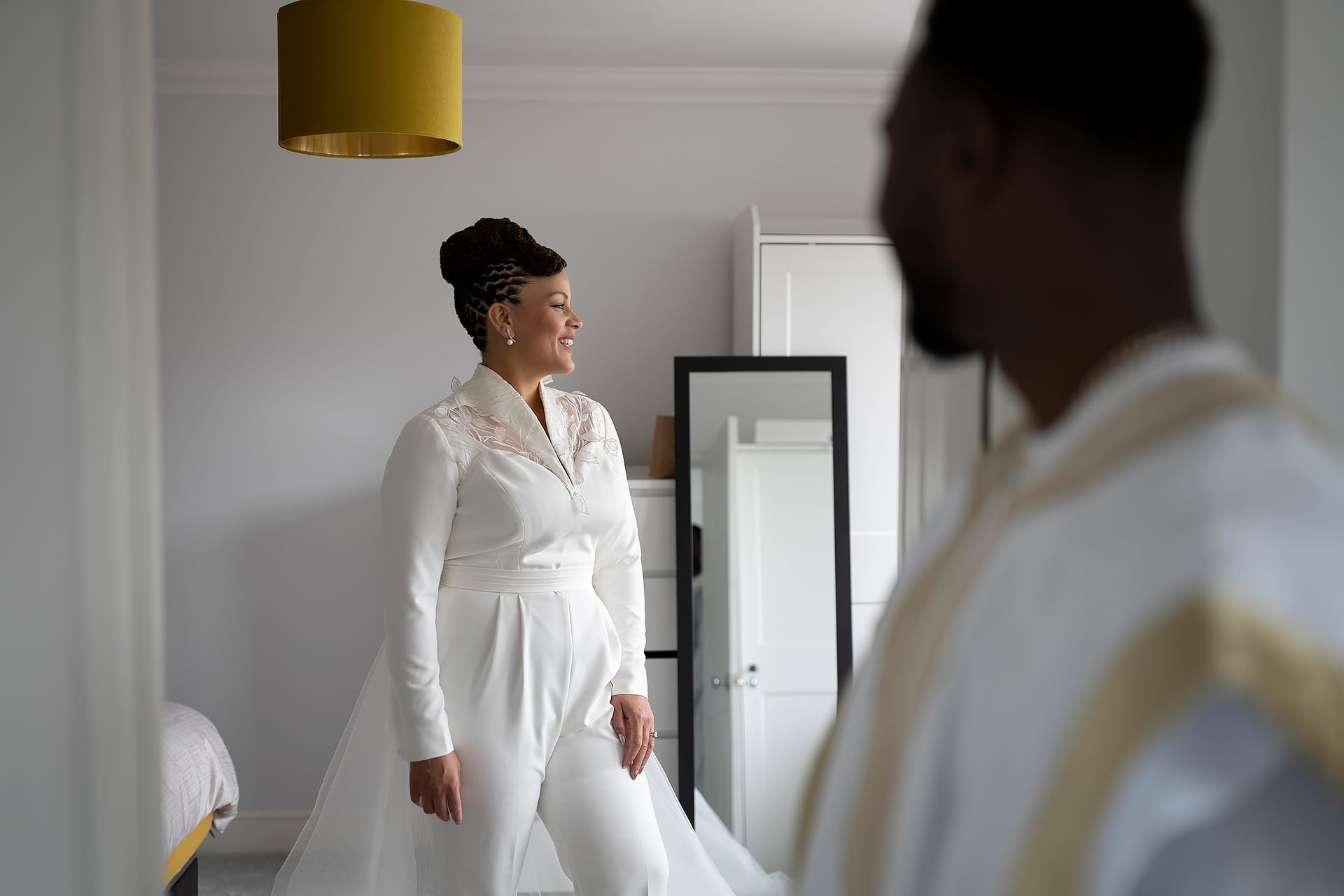 SB: Based in London, how can brides who are not in the UK work with you?
CGH: Working with me is quite straightforward and not as difficult as you may think. I am accustomed to creating gowns for A-listers from overseas, without often meeting them face-to-face. For new brides contemplating creating a dress, our first meeting is over Zoom. We talk about the design and the budget so I can begin thinking of suitable materials, the time limit and precisely how we plan to work together to make the dream come true. It is helpful to the process if a trip to London is planned so that we can take care of all the finer details, but we understand that is not always possible. In this instance, we will need to work with a local seamstress (or an aunt or family member) who we can guide and provide instructions when carrying out fittings on our behalf.
For brides who may not feel comfortable with this, we offer a collection of gowns to choose from. We then reproduce the design in a stock size closest to the bride's own measurements. This can then be fitted more closely by a local tailor or seamstress once it is delivered.