At GB Design House, we love the change of seasons. As the leaves start to turn, we  change the wedding favors to reflect each season.
It's important to choose your wedding favors that connect to your style, to the location and to the season of the year, all the while utilizing your signature colors and your custom monogram.
With my business partner, and mother, Brenda Cascio, what thrills us is incorporating the little details into the wedding and reception that reflect the style of the couple. Our mantra often is, "It's the little details that delight the guests."
We firmly believe that it doesn't take more money to make a bigger statement. Sometimes it is just editing, and other times it is selectively placing little "wow factors" in unexpected places. For example, personalized guest towels in the restroom are always a welcomed touch. Adding a phrase imprinted in gold foil, such as "You look gorgeous, now get out there and dance!" is smile-inducing, and often has guests tucking an extra one in their handbag.
Here are some signature go-to details per season to consider as you plan your wedding.
SUMMER Hand fans are a welcome sight on each seat at an outdoor ceremony. In addition to keeping guests cool, it is an opportunity to place a color splash on each seat. They can all be the same color, or a monochromatic variation of shades. Tie a personalized tag with a color coordinated ribbon, for an extra touch.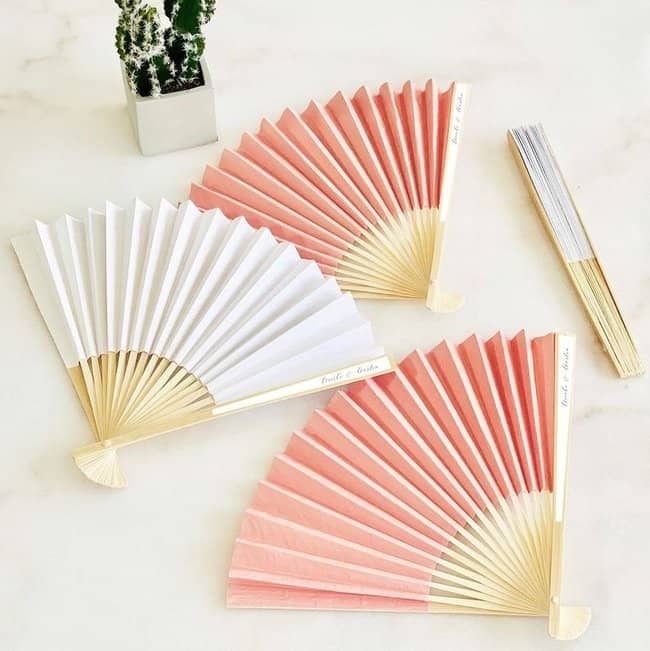 Another idea is a program fan, a two-fer! Consider printing a monogram on one side and your program on the other. For outdoor weddings, trays with personalized glasses of water or champagne to greet the guests as they are mingling before being seated for the ceremony is always a nice touch. Seasonal favors are personalized sunscreens with your logo.
FALL The crisp air adds to the excitement of the event. For a thoughtful gesture at outdoor ceremonies or receptions, place a large wicker basket at the entrance with rolled-up pashminas matching the colors of your event. They can be purchased inexpensively in bulk online or at street stalls.
WINTER At the reception, greet your guests with a hot-toddy as your signature drink. Serve in a personalized insulated paper cup with a lid and a monogrammed stir stick for a custom statement.
As the evening comes to an end, near the exit, have a table set up with s'mores kits for a take-home favor. These are easy favors to make ahead of time, and you can customize the boxes or cello bags with twine and labels. Hot chocolate and donut holes are also an enjoyable end-of-evening treat. At the coat check, have your attendant slip a personal Thank You note in the pocket of the guests' coats. It's such a smile-worthy gesture, and one you are sure to receive comments about later.
SPRING After a long winter, nothing says spring like weddings! Celebrate the season with soft pastels and elegant touches. Color-coordinated parasols and matching hand fans make great photo-ops for you and your bridesmaids. Signature drinks passed on gorgeous silver trays welcome your guests at the reception. Passed appetizers served on napkins embellished in gold foil with the name of the appetizer and its significance is a conversation starter.
Have custom gold-foiled "Advice for the Bride and Groom" coasters at the bar and scattered on the tables so your guests can leave some advice. A family member or your event planner will gather them at the end of the evening as a wonderful keepsake for you. As the night gets long, the advice gets better! A beautiful sign with your photo, "Thanks for Popping By" is strategically placed near the exit along with bags of popcorn embellished with your custom monogram on the labels. At afternoon weddings, consider large shallow silver bowls filled with lavender buds for guests to grab a handful and toss as you make your exit.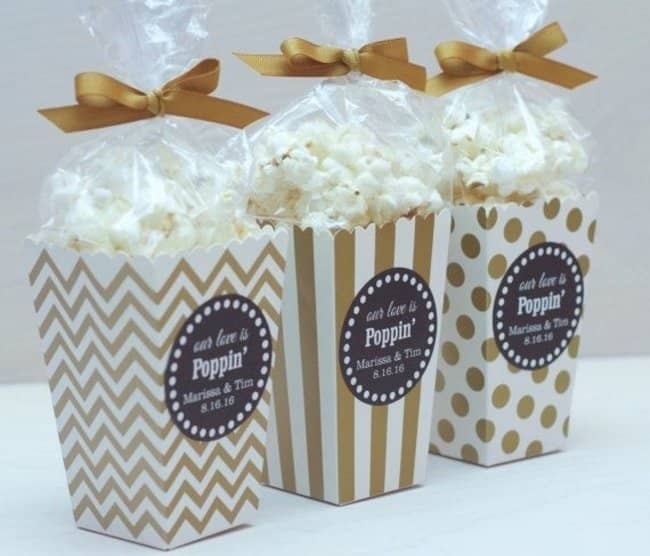 Don't forget the Welcome Bag for out-of-town guests. Be sure to include custom-labeled hand sanitizer, coordinating water bottles with matching labels, breakfast bars, bagged snacks, nuts and a monogrammed deck of cards for an elegant remembrance. Monogrammed matches tied together with sparklers will definitely make a fabulous photo-worthy exit.
Consider adding local specialties to the Welcome Bag. Be sure to include a map of the city and a welcome letter with ideas of sites to visit while in town. In Chicago, you may want to include Fanny Mae Chocolate and Garrett's Popcorn along with Wrigley's Juicy Fruit or Double Mint Gum. In New Orleans, include pralines, or have fresh beignets with hot coffee as the guests head home for the night. In Austin, popular late-night treats are breakfast tacos from a local taqueria. Delight your guests in Savannah with muslin bags of grits accompanied by a recipe. In New York, black and white cookies presented in a waxed bag embellished with your monogram is a fun treat. No matter where you are holding your wedding, every community has something it is proud of and your wedding is a wonderful way to share that with your guests.